Iconology - Neoplatonism - Art (Wien, 15-17 Sep 11)
Wien, September 15 - 17, 2011
ICONOLOGY
Neoplatonism and Art in the Renaissance
Perspectives and Contexts of a Controversial Alliance
Conference venue:
Universität Wien, Institut für Kunstgeschichte
Universitätscampus Hof 9
Spitalgasse 2, 1090 Wien
Entrance: Garnisongasse 13
Organizer:
Universität Wien, Institut für Kunstgeschichte
Universität Wien, Institut für Philosophie
Istituto Italiano per gli Studi Filosofici, Napoli
Contact:
Berthold Hub, berthold.hubunivie.ac.at
Sergius Kodera, sergius.koderaunivie.ac.at
www.kunstgeschichte.univie.ac.at
THURSDAY, 15 SEPTEMBER
9:30 – 10:30
Coffee and Registration
10:30 – 12:30
Welcome Address:
Sebastian Schütze (Universität Wien)
Opening Speech:
Michael J.B. Allen (University of California, Los Angeles)
Eurydice in Hades: Florentine Platonism and an Orphic Mystery
14:00 – 15:30
Patrizia Castelli (Università di Ferrara)
Scrutare nelle caverne, interrogare le stelle
Eugenio Garin: Neoplatonismo ed Ermetismo nelle arti figurative

Salvatore Geruzzi (Università di Ferrara)
L'ambizione di spiegare: alcune considerazioni su Neoplatonismo e arte nel Rinascimento nel pensiero di Ernst H. Gombrich
16:00 – 17:30
Thibaut Gress (Paris IV Sorbonne)
Panofsky's Presuppositions: Can one See Without Looking?
Andreas Thielemann (Biblioteca Hertziana Rom)
Erwin Panofskys Buch Idea von 1924
Historische Position und Revision eines kunsttheoretischen Klassikers
17:30 – 18:30
Reception
18:30
Keynote Address:
Stéphane Toussaint (CNRS, Tours)
Warburg, Panofsky and Ficinian Art
FRIDAY, 16 SEPTEMBER
9:30 – 11:00
Aphrodite Alexandrakis (Barry University Miami)
The Platonic and Neoplatonic Notion of Beauty
Renaissance Art: An Eclectic Style
Valery Rees (London)
Allegory and Mystery in Marsilio Ficino:
Their Relevance to the Debate on Art
11:00 – 13:00
John Shannon Hendrix (Roger Williams Univ., Bristol, Rhode Island)
Leon Battista Alberti and the Concept of Lineament
Jeanette Kohl (University of California, Riverside)
Portraying the Unportrayable: the Platonic Youth in the Bargello
14:30 – 16:00
Marieke J.E. van den Doel (Royal Netherlands Institute, Rome)
Ficino's Fantasy and Michelangelo's Dream
On Michelangelo's Neoplatonism and the Presentation Drawings
Berthold Hub (Universität Wien)
Neoplatonism and Biography:
Michelangelo's Ganymede before and after Tommaso Cavalieri
16:30 – 18:00
Jürgen Müller (TU Dresden)
Form as Idea. Considerations on Michelangelo's Design of the Sistine Chapel
James Saslow (Queens College and CUNY Graduate Center, New York)
Michelangelo's Greek Love in Neoplatonic Art and Modern Oblivion
SATURDAY, 17 SEPTEMBER
9:30 – 11:00
Marlen Bidwell-Steiner (Universität Wien)
In the Quest for Beauty? Gender Trouble in the Orlando Furioso
François Quiviger (Warburg Institute, London)
Plato, Dionysios and Renaissance Artists
11:30 – 13:00
Walter Stephens (John Hopkins University, Baltimore)
Prisci Theologi of Babylon in Modern Dress, 1500-1700
Sergius Kodera (Universität Wien)
Negotiating Neo-Platonic Image Theory:
the Case of Giambattista della Porta's Physiognomics
14:30 – 15:00
Liana De Girolami Cheney (University of Massachusetts Lowell)
Giorgio Vasari's Fine Arts: Neoplatonic Visualization of Invention, Imitation and Beauty
Paul Richard Blum (Loyola University Maryland, Baltimore)
Iconology as a Spiritual Exercise: the compositio loci in Ignatius of Loyola
15:30 – 16:30
Round Table
Quellennachweis:
CONF: Iconology - Neoplatonism - Art (Wien, 15-17 Sep 11). In: ArtHist.net, 31.08.2011. Letzter Zugriff 23.06.2018. <https://arthist.net/archive/1720>.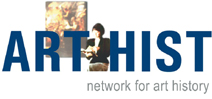 Beiträger: Berthold Hub
Beitrag veröffentlicht am: 31.08.2011
Zu Facebook hinzufügen