Oxford Art Journal, Vol. 42 Issue 3
academic.oup.com/oaj/issue/42/3
ARTICLES:
Oxford Art Journal Essay Prize Winner 2018:
La maladie de porcelaine: Liu Jianhua's Regular/Fragile (2007) at Oxburgh Hall and the History of Massed Porcelain Display in English Aristocratic Interiors
Alex Burchmore
Epidermal Cartographies: Skin as Map in Chilean Art (1979-1994)
Sophie Halart
Fascist Revolution, Futurist Spin: Renato Bertelli's Continuous Profile of Mussolini and the Face of Fascist Time
Ara H Merjian
Blood Works: Judy Chicago and Menstrual Art Since 1970
Camilla Mørk Røstvik
Mentem mortalia tangunt – Fragments and Fetishes in Puławy Landscape Garden (1794-1831)
Aleksander Musiał
A Museum of Moving Images: Mid-Twentieth-Century Art Documentaries on the Louvre
Steven Jacobs, Birgit Cleppe
BOOK REVIEWS:
Sister or 'Handmaid'? How to do Things with Prints
Luisa Calè
Futures and Fictions
Gabriella Nugent
Orders of Appearance
Daniel Spaulding
Mr Magoo and Modern Art
Alex J Taylor
Reference:
TOC: Oxford Art Journal, Vol. 42 Issue 3. In: ArtHist.net, May 16, 2020 (accessed Aug 9, 2020), <https://arthist.net/archive/23105>.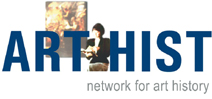 Contributor: Helena Nicholson
Contribution published: May 16, 2020
Add to Facebook