Cinéma et arts plastiques (Paris, 26 Oct 19)
Paris, INHA, Salle Walter Benjamin, October 26, 2019
Registration deadline: Oct 26, 2019
Journee d'etude "Cinema et arts plastiques"
(Marges n° 31)


Matin
9h30 Accueil
9h45 Marion Sergent (Université Paris-Sorbonne, Centre André Chastel)
De la toile à l'écran: une surface de projections psychiques pour les artistes musicalistes
10h15 Nawel Sebih (Université Paris 3 Sorbonne Nouvelle, IRCAV)
Le vertige de la couleur, voie vers l'abstraction picturale au cinéma


10h45 Pause


11h Mickaël Pierson (Université Paris 1)
La salle de cinéma dans l'exposition: imitation ou parodie?
11h30 Francesco Federici (Université du Molise/LIRA - Paris 3)
Rejouer le dispositif du cinéma. Exposer les images en mouvement dans l'art contemporain
12h Jonathan Larcher (EHESS-CRAL)
Film / de / diapositives. Entre art sonore, art de la projection et archéologie des média


12h30 Pause déjeuner


Après-midi
14h Mathias Kusnierz (Université Paris Diderot CERILAC)
Échanges des arts plastiques et du cinéma
14h30 Caroline Martin (Université de Montréal, Labo CinéMédias)
Enseigner le cinéma expérimental: rencontre entre l'enseignant d'arts plastiques et l'artiste.


15h Pause


15h15 Marie Vicet (Université Paris Ouest-Nanterre HAR)
Du cinéma à l'œuvre: transferts iconographiques chez Robert Longo
15h45 Li-Chen Kuo (Université Paris 3 Sorbonne Nouvelle)
Voir à travers le noir. La mise en «boîte» du noir cinématographique dans des œuvres de Janet Cardiff et George Bures Miller: The Muriel Lake Incident (1999), The Paradise Institute (2001)
16h15 Discussion finale
Reference:
CONF: Cinéma et arts plastiques (Paris, 26 Oct 19). In: ArtHist.net, Oct 8, 2019 (accessed Feb 18, 2020), <https://arthist.net/archive/21766>.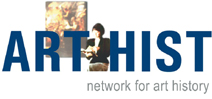 Contributor: Ungan, INHA
Contribution published: Oct 8, 2019
Add to Facebook