Embodied Fantasies (New York City, 28-30 Oct 11)
New York City, October 28 - 30, 2011
Embodied Fantasies: International Conference 2011
http://embodiedfantasies.sva.edu/
Conference Organizers
Suzanne Anker
Chair, BFA Fine Arts Department
School of Visual Arts, NYC
contactsuzanneanker.com
Sabine Flach
Visiting Scholar
BFA Fine Arts Department
School of Visual Arts, NYC
sabineflachgmail.com
Booking information
28-30 October, 2011
Conference Fee: $75
Register online: http://embodiedfantasies.eventbrite.com/
Location
School of Visual Arts
Fine Arts Building
335 West 16th Street
New York, New York 10011
(+1) 212.592.2510
http://www.sva.edu
Embodied Fantasies, a concept central to art history, theory and practice is concurrently a topic debated in the fields of the neuro-and-cognitive sciences, philosophy and phenomenology. This theme will be addressed in a transdisciplinary conference hosting scholars and artists from the fields of architecture, art history, visual art, history of science and psychology among others. Discussions will focus on concepts of embodiment as they relate to sexuality, aesthetics, epistemology, perception and fantasy itself. Approaches to the role of fantasies will be viewed beyond traditional conceptions to include complex thinking processes, subjectivity, and the inter-subjective. Prominent attention will be paid to fantasies and images as a form of knowledge production.
Speakers include: Gabriele Brandstetter (Freie Universität, Berlin), Horst Bredekamp (Humboldt-Universität, Berlin), Mark Dery (Cultural Critic), Frank Gillette (SVA), Dan Hutto (University of Hertfordshire, UK), Mitchell Joachim (TerreformONE), Arthur I. Miller (University of London, UK), Alva Noe (University of California and CUNY), Shelley Rice (NYU), McKenzie Wark (The New School), among others.
Complete program and bios: http://embodiedfantasies.sva.edu/
Program
Friday, October 28, 2011
4:00pm - 5:45pm
Conference Registration
6:00pm - 6:30pm
Introduction - Suzanne Anker
6:30pm - 8:30pm
Plenary Speakers
Mitchell Joachim: Future Ecological Cities
Horst Bredekamp: The Vector Under the Line: Drawings by Galileo, Campanella, Merian
Sabine Flach: Moderator
8:30pm - 9:00pm
Refreshments: wine and cheese

Saturday, October 29, 2011
9:00am - 10:00am
Conference Registration and Continental Breakfast
10:00am - 12:30pm
Panel I: Oxymoronic Places and Spaces
Alex Arteaga: Fantasy in a Non-given World?
Sabine Flach: Negotiations and Metamorphosis: Visualizing Carsten Höller's "SOMA" and Matthew Barney's "Cremaster"
Suzanne Anker: Between Awe and Artifice: Welcome to Wonderland
Boris Goesl: Star Arts or Celestial Embodiments
Dan Hutto: Moderator
12:30pm - 1:30pm
Lunch
1:30pm - 3:00pm
Panel II: Ghost Hearts
Mark Dery:(title pending)
Alva Noe:Making Pictures, Making Worlds Available
Sabine Flach: Moderator
3:30pm - 3:30pm
Coffee Break
3:30pm - 6:00pm
Panel III: Thwarted Expectations
Gerhard Scharbert: Fantasias: Experimental Induced Psychosis and Modern Aesthetics in 19th Century France
Arthur Miller: Creative Processes Within Fantasies: The Strange Friendship of Wolfgang Pauli and Carl Jung
Frank Gillette: Experimental Epistemology: Patterns That Connect
Dan Hutto: Embodied Imaginings
Alex Arteaga: Moderator
6:00pm - 6:30pm
Cocktails and Conversation
6:30pm - 7:30pm
Plenary Speaker
Gabriele Brandstetter: Fantasies of the Catastrophe: Embodiment and Kinaesthetic Awareness in the Performance-installation of Naoko Tanaka's "Die Scheinwerferin" (2011)
Suzanne Anker and Sabine Flach: Moderators
8:00pm
Dinner

Sunday, October 30, 2011
9:00am - 10:00am
Continental Breakfast
10:00am - 12:30pm
Panel IV: Pose and Expose
Alexander Schwan: Body Calligraphies: Dance as an Embodied Fantasy of Writing
Shelley Rice: The Grass is Always Greener: Self-Portraiture in the Age of Facebook
Suzanne Anker: Moderator
12:30pm - 1:30pm
Lunch
1:30pm - 3:00pm
Panel V: Between the Flesh and the Shell
McKenzie Wark: A Minimum of Serious Seduction: The Situationist International as Embodied Fantasies
Frank Gillette: Moderator
3:00pm - 3:30pm
Coffee Break
3:30pm - 6:00pm
Panel VI: Shadowing Fire
Margareta Hesse: Carousels of Perception
Romana Filzmoser: Chimerizing the Body: Art theoretical Concepts of Fantasy in Italian and English 17 Century Obscene Literature
Laura Taler: SPIEGELEI: Affect as Lever
Mathias Kessler: Staging Nature (From the Untouched to the Untouchable)
Arthur Miller: Moderator
Reference:
CONF: Embodied Fantasies (New York City, 28-30 Oct 11). In: ArtHist.net, Oct 12, 2011 (accessed Oct 29, 2020), <https://arthist.net/archive/2030>.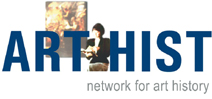 Contributor: Suzanne Anker
Contribution published: Oct 12, 2011
Add to Facebook