Media in the Teaching of Art History (Marburg, 22-24 Nov 2018)
Marburg, 22. - 24.11.2018
Registration deadline: Nov 16, 2018
Das Deutsche Dokumentationszentrum für Kunstgeschichte – Bildarchiv Foto Marburg veranstaltet vom 22. bis 24. November 2018 die DFG-geförderte internationale Konferenz "Lehrmedien der Kunstgeschichte / Media in the Teaching of Art History".
Termin / dates: 22–24 November 2018
Veranstalter / organised by: Deutsches Dokumentationszentrum für Kunstgeschichte – Bildarchiv Foto Marburg (DDK) / German Documentation Center for Art History – Image Archive Foto Marburg
Organisation / organisers: Prof. Dr. Hubert Locher, Dr. Maria Männig
Ort / venue: Philipps-Universität Marburg, Forschungszentrum Deutscher Sprachatlas / Research Center German Language Atlas, Pilgrimstein 16, 35032 Marburg Vortragsraum / Room 001
Die Geschichte des Fachs ist immanenter Bestandteil und Gegenstand kunsthistorischer Forschung. Seit den 1970er-Jahren lässt sich zudem ein wachsendes Interesse an den spezifischen medialen Konfigurationen der Kunstgeschichte beobachten. Die Marburger Tagung will diese Bemühungen erstmals systematisieren, indem sie Ansätze für eine fundierte medientheoretische Ausrichtung des Forschungsfeldes 'Geschichte der Kunstgeschichte' formuliert. Jenseits einer ausschließlichen Fokussierung auf das für die Kunstgeschichte so zentrale Problem des Bildes adressiert das Projekt insbesondere die Spezifik der Medienverbünde und ihres Einsatzes innerhalb der kunsthistorischen Lehre. Besonders die Aspekte des Multi-, Inter- und Transmedialen sollen hierbei problematisiert werden. Die internationale Konferenz visiert zunächst den Fachdiskurs an, fragt jedoch darüber hinaus aus philosophischer, archäologischer und medienwissenschaftlicher Perspektive nach den Rändern und Grenzen kunsthistorischer Vermittlungspraxis. Die Konferenzsprachen sind Deutsch und Englisch.
Um Anmeldung wird bis 16. November 2018 gebeten unter: ddk-tagungfotomarburg.de
Art historiography is an integral part and the subject of art historical research. Moreover, since the 1970s, there has been growing interest in the specific configurations of different media in art history. The Marburg conference would like to make a first attempt at systematising these efforts by formulating the key ideas for providing a firm media-theoretical basis for the research area 'history of art history'. Beyond the problem of the image, which is a central concern of art history, the project will address the specificity of the different constellations of media and their use within art-historical teaching with a particular focus on multi-, inter-, and transmedia aspects. The international conference, at the outset, will be directed at the academic discourse of the discipline, but will also widen the focus to the philosophical, archaeological, and media-studies perspective, seeking to gain an understanding of the boundaries and the limits of art historical educational practices. Conference languages are German and English.
Please register by 16 November 2018 via ddk-tagungfotomarburg.de
Programm / programme
22.11.2018
BEGRÜSSUNG UND EINFÜHRUNG / GREETINGS AND INTRODUCTION
13:15 Lehre – Medien – Kunst – Geschichte. Eine Problemskizze (Hubert Locher, Marburg)
Einführung in das Programm (Maria Männig, Marburg)
SEKTION / PANEL I – MODERATION / CHAIR: STEFANIE KLAMM (BERLIN)
14:00 Lehrmedien in der Klassischen Archäologie am Beispiel des DAI Rom (Ortwin Dally, Rom)
14:50 Nach der Natur lernen. Bildvorlagen als Lehrmittel im akademischen und kunstgewerblichen Lehralltag (Anastasia Dittmann, Berlin)
15:30 Kaffeepause / coffee break
SEKTION / PANEL II – MODERATION / CHAIR: THOMAS HENSEL (PFORZHEIM)
16:00 Die Intransparenz der Transparenz. Eine medientheoretische Denkfigur und die kunsthistorische Praxis (Jens Ruchatz, Marburg)
16:50 Gebändigte Blicke: Bruno Meyers Lehrmedienprojekte (Maria Männig)
17:30 Media Archaeology as Topos Study (Erkki Huhtamo, Los Angeles)
18:10 Kaffeepause / coffee break
19:00 KEYNOTE: Slide Lecture to Digital Presentation: No Change or Fundamental Change? (Robert S. Nelson, New Haven) MODERATION: MARIA MÄNNIG

20:00 Abendessen / dinner
23.11.2018
SEKTION / PANEL III – MODERATION / CHAIR: DOROTHEA PETERS (BERLIN)
09:15 Bilder und Bildung im frühen 20. Jahrhundert (Kerstin Schwedes, Braunschweig)
10:00 Fotogeschichte aus dem Geist des Fotobuchs (Steffen Siegel, Essen)
10:40 Kaffeepause / coffee break
SEKTION / PANEL IV – MODERATION / CHAIR: ANJA SCHÜRMANN (DÜSSELDORF)
11:00 "Die steinernen Wunder von Naumburg". Ein Buch, ein Film und der Akt des Zeigens (Barbara Schrödl, Linz/Wien)
11:50 Medien in der kunstgeschichtlichen Volksbildung (Andreas Zeising, Siegen)
12:30 Mittagspause / lunch break
13:15 Gelegenheit zu Einblicken in die Sammlung des DDK / insights into the collection of the DDK (Sonja Feßel, Marburg)
SEKTION / PANEL V – MODERATION / CHAIR: INGRID VERMEULEN (AMSTERDAM)
14:00 Fotografien im Land der Originale. Die Photothek (Costanza Caraffa, Florenz)
14:50 Photography and the Teaching of Archaeology: The Photographic Archive of the Society for the Promotion of Hellenic Studies (Maria Moschou, Athen)
15:30 The Slide Library of the "Giovanni Previtali" Photographic Archive: Teaching Art History at the University of Naples Federico II from the 1920s to 60s (Rossella Monaco, Neapel)
16:10 Kaffeepause / coffee break
SEKTION / PANEL VI – MODERATION / CHAIR: SUSANNE MÜLLER-BECHTEL (MÜNCHEN)
17:00 Sehen lernen. Kunstgeschichte im Schulbuch um 1900 (Josef Imorde, Siegen)
17:50 Kunstgeschichte für Frauen. Lehrbücher für den Unterricht an höheren Mädchenschulen um 1900 (Melanie Sachs, Marburg)

18:30 Kaffeepause / coffee break
19:00 KEYNOTE: Der Eigensinn der Bilder. Anmerkungen zu medialen Übergängen (Gottfried Boehm, Basel) MODERATION: HUBERT LOCHER
20:00 Umtrunk / reception
24.11.2018

SEKTION / PANEL VII – MODERATION / CHAIR: MEGAN LUKE (LOS ANGELES/BERLIN)
09:15 Antikenstudium im Fackellicht. Die Zeichnung als Vermittlungsmedium (Johannes Rößler, Bern)
10:00 "Le Fournisseur des musées". Zur historischen Rezeption der Pigmentdrucke des Fotografenunternehmens Adolphe Braun (Franziska Scheuer, Marburg)
10:40 Kaffeepause / coffee break
SEKTION / PANEL VIII – MODERATION / CHAIR: BERND CARQUÉ (HEIDELBERG)
11:00 Kunsthistorische Bildmontagen. "Kunstgeschichte in Bildern" vor und zurück (Daniela Mondini, Mendrisio)
11:50 Wilhelm Lübkes kunstgeschichtliche Vorlesungen (Alexandra Axtmann, Karlsruhe)

12:30 Mittagspause / lunch break

SEKTION / PANEL IX – MODERATION / CHAIR: HUBERT LOCHER
13:30 Zum Mediendiskurs in kunsthistorischen Leitfäden. Ein Problemaufriss anhand ausgewählter Beispiele (Christian Nille, Mainz)
14:20 Die kunsthistorische Bilddatenbank zwischen digitalisierter Diathek und visuellem Wissensraum (Georg Schelbert, Berlin)
15:00 Interventionen mit und in Lehrmedien (Philipp Goldbach, Köln)
Die Tagung wird großzügig durch die Deutsche Forschungsgemeinschaft (DFG) gefördert sowie durch den Ursula-Kuhlmann-Fonds (Marburg) unterstützt.
The conference is generously sponsored by the German Research Foundation (DFG) and supported by the Ursula-Kuhlmann-Fonds (Marburg).
Weitere Informationen / for further information: https://lehrmedien.hypotheses.org
Reference:
CONF: Media in the Teaching of Art History (Marburg, 22-24 Nov 2018). In: ArtHist.net, Sep 27, 2018 (accessed Jun 19, 2019), <https://arthist.net/archive/19028>.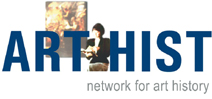 Contributor: Maria Männig
Contribution published: Sep 27, 2018
Add to Facebook