Archives of American Art Journal 57.1 (spring 2018)
Spring 2018 Table of Contents
NEW RESEARCH
Political Contestation in Cyrus Dallin's American Indian Monuments
Emily C. Burns
Triptychs at War: Violet Oakley's Victory
Jeff Richmond-Moll
Free Art and a Planned Giveaway
Joan Kee
ART WORK
Raw Powers
Lily Cox-Richard
introduced by Karen Lemmey
ARCHIVE MATTERS
The Social Lives of Archival Photographs
Catherine Zuromskis
ACQUISITIONS
Juan Sanchez Papers
Josh T. Franco
Allan Frumkin Gallery Records
Annette Leddy
Don Reitz Papers
Mary Savig
Tony DeLap Papers
Matthew Simms
————————————-
The longest-running scholarly journal devoted to the history of American art, the AAAJ aims to showcase new approaches to and out-of-the-box thinking about primary sources. It contains both commissioned and peer-reviewed research articles that engage with the vast holdings of the Smithsonian's Archives of American Art.
To explore current and back issues of the journal, please go to www.press.uchicago.edu/ucp/journals/journal/aaa.html. The University of Chicago Press website includes information regarding subscriptions and submissions. I encourage potential authors to discuss their research and manuscripts by writing to SheehanTsi.edu.
Quellennachweis:
TOC: Archives of American Art Journal 57.1 (spring 2018). In: ArtHist.net, 15.04.2018. Letzter Zugriff 22.03.2019. <https://arthist.net/archive/17866>.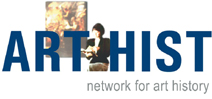 Beiträger: Tanya Sheehan, Archives of American Art
Beitrag veröffentlicht am: 15.04.2018
Zu Facebook hinzufügen