Representing the Sixth Sense (London, 27 May 17)
Institute of Advanced Studies, UCL, London, May 27, 2017
www.ucl.ac.uk/institute-of-advanced-studies/pdfs/the-sixth-sense
Representing the Sixth Sense in Art and Visual Culture
The visual representation of multi or extra-sensory experience has always presented serious and myriad challenges. How has a sixth sense been represented in art and visual culture? What can this tell us about how other sense experiences might be translated and represented visually? Might an exploration of the sixth sense in art and visual culture expand our understanding of what experiences we typically believe that works of art offer to their 'viewers'—a word that itself demonstrates how the language for theorising the complex and multi-dimensional nature of encounters with art is limited.
PROGRAMME
Saturday 27th May, 2017
IAS Common Ground, Ground Floor, South Wing, Wilkins Building, UCL
2pm
Welcome
2.15pm
Panel 1
Anamorphic Images and the Desire for Wonder
Thi Phuong-Trâm Nguyen (The Bartlett School of Architecture)
Visualising Political Martyrdom in Colonial India
Pragya Dhital (School of Oriental and African Studies)
Sensing Soul: Remonstration, Distortion and Reconciliation Within Photographic Practice
Louise Fago-Ruskin (Plymouth College of Art)
Chair: Sophie Morris (University College London)
3.35pm
Refreshments
IAS Common Ground
3.50pm
Panel 2
Tasting Impressionist Painting
Allison Deutsch (University College London)
Mesmeric Performativity: Somnambulism Magnétique and Auguste Rodin's Hypnotic Dancers
Fae Brauer (University of East London Centre for Cultural Studies Research)
Kinesthetic Re-education for Modern Art Viewers: Albert Barnes, John Dewey, Leo Stein, and the Barnes Foundation
Robin Veder (Research & Scholars Center, Smithsonian American Art Museum)
Chair: Kelly Freeman (University College London)
5.10pm
Refreshments
IAS Common Ground
5.25pm
Keynote Lecture
Beyond the Ocularcentric: Sculpture and the Senses in Renaissance Italy
Geraldine A.Johnson (University of Oxford)
Chair: Allison Deutsch (University College London)
6.30pm
Drinks Reception
IAS Common Ground
Sophie Morris
University College London
PhD Candidate in History of Art
tel. 07549 847866
Quellennachweis:
CONF: Representing the Sixth Sense (London, 27 May 17). In: ArtHist.net, 18.05.2017. Letzter Zugriff 25.05.2018. <https://arthist.net/archive/15500>.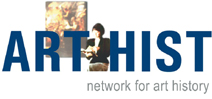 Beiträger: Sophie Morris, London
Beitrag veröffentlicht am: 18.05.2017
Zu Facebook hinzufügen