Modos Art Journal, No. 1, 2017
MODOS, vol. 1, no. 1
We are pleased to announce the launching of the first edition of MODOS, a magazine providing a new platform for debates on art history. Published by the Research Group MODOS - História da Arte: modos de ver, exhibir e compreender [MODES – Art History: modes of seeing, exhibiting and understanding], the magazine aims to contribute toward diffusing recent theoretical texts in the field of visual arts. Three online editions shall be launched each year, offering free access to their content. It will accept articles (in portuguese, spanish and english), translations, interviews and reviews, as well as texts for thematic dossiers, organized by researchers invited by the Editorial Board or by the Editors.
The articles published in the first edition present topics of interest to the magazine, investigated in distinct manners by art historians: critique, curatorship, exhibitions, collections, institutions and methodological questions of the field.
We would like to invite everyone to visit the many modes of writing art history. Read, spread the word, share and, above all, contribute to this space with your own MODES to enrich and multiply discussion about art, its history, theory and critique.


ARTICLES
As obras visuais e os textos que as acompanham
Jean Galard
Produção cultural indígena e história da arte no Brasil: entre arte e artefato, armadilhas como problema metodológico
Ivair Reinaldim
Uma história de roupas e de moda para a história da arte
Angela Brandão
Modernité and its mythology
Christophe Longbois-Canil
Maruja Mallo: el retrato fotográfico y la "invención de sí" en la vanguardia española
Patricia Mayayo
Sítio Santo Antonio da Bica: as coleções de Roberto Burle Marx
Vera Beatriz Siqueira
A Modern, American Courbet: Roy Lichtenstein's European Rise to Fame, 1963-1966
Catherine Dossin
Notas sobre o amor: Pedro Escosteguy em Curitiba
Artur Freitas
Roberto Magalhães - xilogravuras: figuração fantástica, ética e ironia
Maria Luisa Luz Tavora
A Sexta Edição da Jovem Arte Contemporânea: do incentivo às novas poéticas experimentais à inconsistência do discurso crítico
Almerinda da Silva Lopes
Guías multimedia con realidad aumentada en los museos del siglo XXI: la virtualidad como parte integrante del discurso expositivo
David Ruiz Torres; Maria Luisa Bellido Gant
(EX)POSIÇÕES
Instalação Inventário: Arte Outra – itinerário crítico. Sobre o gesto e a falsificação no trabalho de Gustavo von Ha
Ana Cândida Avelar


For the articles please visit: http://www.publionline.iar.unicamp.br/index.php/mod/issue/view/54/showToc
For more information about the journal please visit: http://www.publionline.iar.unicamp.br/index.php/mod/index
Quellennachweis:
TOC: Modos Art Journal, No. 1, 2017. In: ArtHist.net, 20.03.2017. Letzter Zugriff 23.06.2018. <https://arthist.net/archive/14972>.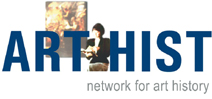 Beiträger: Maria de Fatima Morethy Couto
Beitrag veröffentlicht am: 20.03.2017
Zu Facebook hinzufügen