Histories Built, Carved & Written (New Brunswick, 7 Apr 17)
Zimmerli Museum, Rutgers University, New Brunswick, New Jersey, April 7, 2017
Histories Built, Carved, and Written:
A Symposium in Honor of Tod A. Marder
This symposium is organized on the occasion of Tod A. Marder's retirement from active teaching. A generous and insightful scholar, mentor, and colleague, Tod has been a significant influence on the fields of Baroque architecture, Bernini studies, and architectural history and criticism for over forty years. To celebrate Tod's scholarship and to reflect on the current state and historiography of architectural history and Bernini studies, this symposium brings together colleagues, mentees, and former students who will speak on a range of topics inspired by Tod's work and example.
Organizers: Karen Lloyd and Stephanie Leone
Host: Erik Thuno, Chair, Department of Art History, Rutgers
Sponsored by the Department of Art History, Rutgers University and the Samuel H. Kress Foundation

PROGRAM
9:00-9:20 WELCOME
Erik Thuno, Chair, Department of Art History
Stephanie C. Leone (Boston College) and Karen J. Lloyd (Stony Brook University); Co-organizers
9:20-10:40 SESSION I: Reconstructions
Joseph Connors, Harvard University. The Krautheimerian Roots of Generation Seventies
Patricia Waddy, Syracuse University. Del Bufalo Fountains at Capo Le Case: Solutions from the Archive
Ingrid Rowland, Notre Dame University. Borromini's Restorations in Saint John Lateran, Rome
10:40-11:10 LAUDATIO
John Pinto, Princeton University. Tod Marder: An Appreciation
11:10-11:40 COFFEE BREAK
11:40-1:00 SESSION II: Dissemination
Nicholas Adams, Vassar College. The Critical Edge: When Historians Met the Present
Heather Hyde Minor, Notre Dame University. Architecture in Print: Obelisks in Baroque Rome
Christy Anderson, University of Toronto. A Talented Man: George Waymouth and The Jewell of Artes
1:00-2:00 LUNCH BREAK
2:00-3:20 SESSION III: Bernini
Karen J. Lloyd (Stony Brook University); Lisa Neal Tice (Lebanon Valley College); Emily Urban (Philadelphia Museum of Art). Golden Ages: The Goat Amalthea and the Young Bernini
Vernon Hyde Minor, University of Colorado Boulder. Tomb of Alexander Chigi, St. Peter's
Maria Grazia D'Amelio, Università degli studi Roma Tre. Gian Lorenzo Bernini: astrological divinations and professional affairs (1624-1652)
3:20-3:40 VIDEO Susanna Pasquali, Pantheon
3:40-4:10 COFFEE BREAK
4:10-5:15 KEYNOTE LECTURE
John Beldon Scott, University of Iowa. Bernini's Colonnade: Anxiety and Control in Piazza San Pietro
5:15 RECEPTION
Quellennachweis:
CONF: Histories Built, Carved & Written (New Brunswick, 7 Apr 17). In: ArtHist.net, 18.03.2017. Letzter Zugriff 24.04.2018. <https://arthist.net/archive/14968>.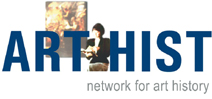 Beiträger: Karen Lloyd
Beitrag veröffentlicht am: 18.03.2017
Zu Facebook hinzufügen