Art Historians of Southern California (Los Angeles, 19 Oct 13)
UCLA, Los Angeles; Fowler Museum, to October 19, 2013
Art Historians of Southern California 2013 Annual Symposium
In honor of the 50th Anniversary of UCLA's Fowler Museum, the 2013 Art
Historians of Southern California's Annual Symposium takes the
opportunity to recognize the unique art academy that is comprised of
the museum's longstanding partnership with the university. The
schools of anthropology, the humanities, and especially art history,
were integral to the Fowler's remarkable foresight in creating a
dynamic collection of world art. The importance of this partnership
provides a context for the symposium in light of the much-pondered
valuation of the humanities and art history. The AHSC symposium
convenes a panel of scholars who will address the classification of
cultural objects within the new global genres for art – "world art."
The Fowler's development provides a clear example of the expansion of
art history as reflected in Donald Preziosi and Claire Farago's
compendium Grasping the World: the Idea of the Museum (2004). The
update to scholarship emphasizes interdisciplinarity in the study of
cultural objects, redefining their cultural "identity" from artifacts
to art. As such, can a humanities perspective toward objects be
differentiated from earlier scientific models? The opportunity to
identify, recognize, and assess the measurable impact of the
humanities – from enrichments of social philosophies to the profession
of its teaching occupation – becomes highly relevant.
October 19, 2013
11:30am-4:30 pm
Hosted by the Fowler Museum at UCLA
A Panel Discussion followed by a Tour of the Collection
The Art Academy: The Museum, Art History and the Art Association
Presentation of Papers:
Donald Preziosi, UCLA Professor of Art History, Emeritus: "In the
Light of the Fowler: Art History, Museology, and…"
Claire Farago, Professor of Art History, University of
Colorado-Boulder: "Imagining Art History Otherwise"
Selma Holo, Professor of Art History and Director of the Fisher Museum,
University of Southern California: "The museum/university relationship
as imagined in the special "art academy" I proposed last year: a
humanities-focused approach"
Lothar von Falkenhausen, UCLA Professor of Art History, Asian Studies:
"Some Current Challenges to East Asian Art History, and How Museums can
Contribute to their Solution"
Panel Discussion of the Art Academy
Chaired by: AHSC Board Members and Art History professors Jane Chin
Davidson (CSU San Bernardino) and Sandra Esslinger (Mt San Antonio
College)
SYMPOSIUM EVENT - ADVANCE RESERVATIONS REQUESTED
PLEASE VISIT OUR WEBSITE http://www.arthistsocal.org/membership.html
Quellennachweis:
CONF: Art Historians of Southern California (Los Angeles, 19 Oct 13). In: ArtHist.net, 13.10.2013. Letzter Zugriff 18.10.2017. <https://arthist.net/archive/6156>.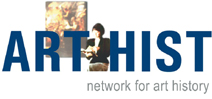 Beiträger: Gamble Madsen
Beitrag veröffentlicht am: 13.10.2013
Zu Facebook hinzufügen