Identity. Construction and Meaning (Oxford, 20-21 Jun 13)
University of Oxford, Danson Room, Trinity College, Broad St, Oxford OX1 3B, June 20 - 21, 2013
Anmeldeschluss: 17.06.2013
Association of Art Historians Student Summer Symposium
The Student Summer Symposium is a two-day annual conference of
post-graduate research papers which takes place at a different
university each year in early Summer.
IDENTITY: Construction and Meaning
The concept of 'identity' is prolific within the visual arts and in
many ways its pertaining issues have shaped the discipline of art
history. The biographical approach to reading artists' work privileged
by Vasari in his Lives (1550) has had a lasting influence. The
portrait remains an effective medium through which to narrate the
historical and contemporary identity of particular institutions and
nations, and the art market continues to rely upon authentic
attribution. Yet this art history of names remains problematic and by
no means comprehensively represents either the discipline of art
history or the plural notions of identity that have come to influence
it.
During the twentieth century, subjectivity was critiqued and revised:
psychoanalysis destabilized the concept of a consistent and whole
subject, positioning the self as an illusion of stability and a site
of fragmentation; Barthes and Foucault challenged notions of
authorship, arguing instead that the reader-viewer be considered in
the creation and interpretation of a work. More recently, gender and
postcolonial theory has cast light on notions of identity understood
as performance and as Otherness, and new technologies, such as the
Internet, have altered relations between international communities and
provided new platforms for constructing identity.
As art history has increasingly incorporated theories and approaches
from other disciplines, how might we characterize art history's
identity as a discipline and to what extent does thinking about
notions of identity offer a productive framework for the art
historian?
Timetable
Thursday 20 June
10:00-10:30 – Registration & Refreshments
10:30-10:45 – Welcome & Housekeeping
10:45-12:15 – Session 1
Sally Beazley Long (Birkbeck, University of London) Fashioning
Ambivalence and the Fiction of Femininity: Berthe Morisot's
representation of gender identity
Louise Carson (University of Nottingham), An unknown woman by an
unknown artist: jewellery and identity in an Elizabethan portrait
Anna Ficek (New York University), The Princess, The Virgin, The
Harlot: Examining the Construction of the Feminine Identities in
Colonial Peruvian Culture
12:15-13:15 – Keynote Address
Professor Marcia Pointon (Senior Research Professor, Norwich
University of the Arts), Casts, Masks and Questions of Identity
13:15-14:15 – Lunch (not provided)
14:15-15:15 – Keynote Address
Bob and Roberta Smith (Artist and Honorary Fellow of Arts, University
College Bournemouth) What is an Artist Anyway?
15:15-15:30 – Refreshments
15:30-17:30 – Session 2
Ann Haughton (University of Warwick), The Body Flayed Bare: Skin and
the Inscription of Identity in Renaissance Art
Lucy S. Gellman (Courtauld Institute of Art), Bodies Bound and
Unbound: Revising the Fragment in Antoine-Jean Gros' Napoléon sur le
champ de bataille d'Eylau
Natasha Adamou (University of Essex), The Delirium of Interpretation:
Salvador Dalí's paranoia-criticism and the construction of artistic
identity in Urs Fischer
Catherine Lofthouse (University College London), The Artist-Musician
After-lives of Jacopo Bassano, Tintoretto, Titian, and Veronese
Friday 21 June
9:15-10:45 – Session 3
Hilary Floe (University of Oxford), Performing Liberation: Culture,
Counterculture and Identity in Oxford's Space Place (1966)
Sarah Moulden (University of East Anglia and Norwich Castle Museum &
Art Gallery), "turning myself about": John Sell Cotman returns to
Norwich
Danielle Dufort (University College London), Framing 'Vrel': A case
study in the construction of artistic identity
11:15-12:45 – Tour of Ashmolean Museum
13:00-14:00 – Lunch, Trinity College Hall
14:00-16:00 – Session 4
Dina Akhmadeeva (University of Oxford), Leave our ordinary methods of
memorising far behind: the idea of Russia in the tripartite colour
photography of Sergei Prokudin-Gorskii (1906-1916)
Imma Ramos (University of Cambridge), The Fragmentation of Sati:
Constructing Hindu Identity through Nationalistic Pilgrimage Souvenirs
Daniel Cryus Jonas Zamani (University of Cambridge), Hermetic
Symbolism and the Politics of Jewish Identity in Victor Brauner's Le
Surréaliste (1947)
Zehra Jumabhoy (Courtauld Institute of Art), Seeing Red: Anish Kapoor,
Selfhood and The Sublime
16:00-16:15 – Refreshments
16:15-17:15 – Keynote Address
Professor Craig Clunas (History of Art, University of Oxford) Identity
On and Identity In the Modern Chinese Painting
BOOKING
AAH Members: £35 | Non-Members: £45 Final deadline (subject to
availability): 17 June Places strictly limited; early booking
recommended
Online booking: www.aah.org.uk/events/summer-symposium Tel: +44 (0)20
7490 3211
Convenors: Allison Goudie, Nicola McCartney, Charlotte Stokes & Imogen
Wiltshire
Quellennachweis:
CONF: Identity. Construction and Meaning (Oxford, 20-21 Jun 13). In: ArtHist.net, 01.06.2013. Letzter Zugriff 18.10.2017. <https://arthist.net/archive/5488>.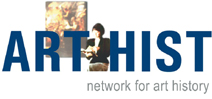 Beiträger: AAHSS2013
Beitrag veröffentlicht am: 01.06.2013
Zu Facebook hinzufügen