Verflüssigungen / Liquefactions (Berlin, 23-25 Nov 12)
Universität der Künste Berlin, Institut für Kunstwissenschaft und Ästhetik, 23. - 25.11.2012
Verflüssigungen. Ästhetische und semantische Dimensionen eines Topos. Internationale und interdisziplinäre Tagung
Liquefactions. Aesthetic and Semantic Dimensions of a Topos. International and Interdisciplinary Conference
(English version below)
Institut für Kunstwissenschaft und Ästhetik
Fakultät Bildende Kunst
Universität der Künste Berlin
23.-25. November 2012
www.udk-berlin.de/verfluessigungen
Gefördert durch / Funded by:
Fritz Thyssen Stiftung für Wissenschaftsförderung
Verflüssigungen. Ästhetische und semantische Dimensionen eines Topos
Von Zygmunt Baumans "Liquid Modernity" bis zu Zaha Hadids "Total Fluidity": die Rede vom Flüchtig-Fließenden hat gegenwärtig Konjunktur als Signum einer kulturellen (Post-)Moderne, in der Technisierung und Psychologisierung zu einer 'Verflüssigung' von Grenzen und Ordnungen geführt haben. Das Metaphernfeld hat freilich eine weit längere geistes- und diskursgeschichtliche Tradition, die in dem Ausdruck "Alles fließt" eine griffige Formel für "ewiges Werden und Wandeln" fand. Nach den Sprachbildern der Romantik wird gegen Ende des 19. Jahrhunderts das Fließend-Flüssige zum durchaus ambivalenten Topos, in dem sich körperliche, seelische, technologische und wahrnehmungstheoretische Prozesse als Symptome einer verunsichernden Moderne abbilden. Angesichts neuer Materialien und Medien erfahren solch 'krisenhafte' Motive im 20. und 21. Jahrhundert schließlich neuartige Umsetzungen, die die materiellen, formalen und semantischen Aspekte des Fließend-Flüssigen fruchtbar machen. Die Tagung richtet den Blick auf die ästhetischen und semantischen Implikationen dieses Topos seit der Romantik, seine Wirkmacht in unterschiedlichen wissenschaftlichen und künstlerischen Disziplinen und seine historisch wandelbaren Bedeutungshorizonte.
Liquefactions. Aesthetic and semantic dimensions of a topos
From Zygmunt Bauman's "Liquid Modernity" to Zaha Hadid's "Total Fluidity", the topos of Fleeting and Flowing is experiencing a surge of interest as a sign of cultural (post)modernism, with technologisation and psychologisation having led to a 'liquefaction' of borders and orders of the most varied kind. Still, such metaphors reach back much farther, with the famous saying, "all things flow", expressing one's belief in the ever-present change in universe. Romanticism followed this positive interpretation with a substantial imagery of the Flowing. Yet at the end of the century, the spirit changed, with the Liquid being a potentially ambivalent topos that articulates an unsettling modern experience of physical, psychological, technological und perceptual processes. Given novel media and materials in the 20th century and today, these moments of crisis are reflected with an eye on the material, formal and semantic implications of the Liquid. The conference discusses the aesthetic and semantic dimensions of the topos since Romanticism, considering its impact on different scientific and artistic fields, and its changing historical interpretations.
Veranstaltungsort / Location:
Universität der Künste Berlin
Hardenbergstr. 33
10623 Berlin
Raum Ha110
Tagungsprogramm / Programme:
FREITAG / FRIDAY 23. NOVEMBER 2012
14:00 Begrüssung / Welcome: Tanja Michalsky, Dekanin / Dean, Fak. Bildende Kunst, UdK Berlin
14:15 Einführung / Introduction: Kassandra Nakas (UdK Berlin)
I: Psychodynamische Aspekte des Flüssigen / Psychodynamic Aspects of Liquidity
Moderation / Chair: Kassandra Nakas (UdK Berlin)
14:30-15:15 Friedrich Weltzien (Universität Potsdam): Die Fantasie ist flüssig. Von der romantischen Hirnphysiologie zum Abbild der natura naturans
15:15-16.30 Ed Krčma (University College Cork): Liquid Language: Drawing and Writing in Michaux and Broodthaers
16:30-17:00 Kaffeepause / Coffee Break
17:00-17:45 Kelli Fuery (Chapman University, Orange, CA): Liquid Traces. Memory as Solution and the Archive as Flow
17:45-18:30 Diane O'Donoghue (Boston Psychoanalytic Society and Institute): Liquiphobia and the Scene of Psychoanalysis
19:00 Abendvortrag / Keynote Lecture: Philip Ursprung (ETH Zürich): Fluids: Arbeiten mit Allan Kaprow

20:00 Wein und Brezeln / Drinks and Snacks
SAMSTAG / SATURDAY 24. NOVEMBER 2012
II: Materialästhetik und –semantik / Material Aesthetics and Semantics
Moderation / Chair: Anne-Grit Becker (FU Berlin)
9:00-9:45 Brandon Taylor (University of Southampton): Swarming, Entropy, Flow
9:45-10:30 Dietmar Rübel (HfbK Dresden): Blubber. Zur Konsistenz von Deep Time
10:30-11:00 Kaffeepause / Coffee Break
11:00-11:45 Gerald Schröder (Ruhr-Universität Bochum): Female Sensibility – Verflüssigung als Pose im Werk von Lynda Benglis
11:45-12:30 Jasmin Mersmann (Humboldt-Universität Berlin): Gestaltprozesse. Verflüssigung und Verhärtung im Werk von Markus Raetz

12:30-14:00 Mittagspause / Lunch
III: Architektur und Raumerfahrung / Architecture and the Experience of Space
Moderation / Chair: Ursula Ströbele (UdK Berlin)
14:00-14:45 Moritz Gleich (ETH Zürich): Verflüssigte Menge. Der Diskurs des Menschenstroms im 19. Jahrhundert
14:45-15:30 Ole W. Fischer (University of Utah, Salt Lake City): "Diese neue Tafel, oh meine Brüder, stelle ich über euch: Werdet hart." – Nietzsche-Rezeptionen in der Architektur zwischen "großem Stil" und "halkyonischer Kunst"
15:30-16:00 Kaffeepause / Coffee Break
16:00-16:45 Carolin Höfler (TU Braunschweig): Liquid architecture, navigable music. Romantische Gedankenmodelle und digitale Modellgebilde
16:45-17:30 Dora Imhof (ETH Zürich): Liquid Architecture? Doug Aitkens Videoprojektionen im urbanen Nachtraum
SONNTAG / SUNDAY 25. NOVEMBER 2012
IV: Medientheoretische Aspekte / Liquefaction in Media Theory
Moderation / Chair: Julian Blunk (UdK Berlin)
9:30-10:15 Olga Moskatova (Bauhaus-Universität Weimar): Analoge Nostalgie – Verfließen, Vergehen, Vergessen
10:15-11:00 Martina Dobbe (UdK Berlin): Jeff Walls Konzept der Liquid Intelligence
11:00-11:30 Kaffeepause / Coffee Break
V: Fließen und das Flüssige als wahrnehmungstheoretische Topoi / The Liquid in Theories of Perception
Moderation / Chair: Julian Blunk (UdK Berlin)
11:30-12:15 Franziska Heller (Universität Zürich): Das Fluide als filmisches Wahrnehmungssystem. Ansätze zu einer anderen Filmästhetik
12:15-13:00 Karlheinz Lüdeking (UdK Berlin): "Perception liquide": was meint Deleuze mit diesem Ausdruck?
13:30 Ende der Tagung / End of Conference
Eintritt frei, um Voranmeldung wird gebeten unter / Admission is free, for registration please contact: nakasudk-berlin.de
Institut für Kunstwissenschaft und Ästhetik
Fak. Bildende Kunst
Universität der Künste Berlin
Hardenbergstr. 33
10623 Berlin
Konzeption / Organized by:
Dr. Kassandra Nakas, Institut für Kunstwissenschaft und Ästhetik, UdK Berlin
Gefördert durch / Funded by:
Fritz Thyssen Stiftung für Wissenschaftsförderung
Reference:
CONF: Verflüssigungen / Liquefactions (Berlin, 23-25 Nov 12). In: ArtHist.net, Nov 12, 2012 (accessed Jul 8, 2020), <https://arthist.net/archive/4197>.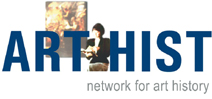 Contributor: Kassandra Nakas
Contribution published: Nov 12, 2012
Add to Facebook