Size Matters (Florence, 8-10 Nov 12)
Kunsthistorisches Institut in Florenz - Max-Planck-Institut, November 8 - 10, 2012
Size Matters: Questions of Scale in Art History
Kunsthistorisches Institut in Florenz - Max-Planck-Institut
Conference
November 8-10, 2012
Hosted by the Kunsthistorisches Institut in Florenz - Max-Planck-Institut in association with the University of Michigan and sponsored by the Kress Foundation, this conference addresses scale, one of the issues most central to the making and reception of art. Even more than other foundational constructs such as color, line, or shape, scale directs attention towards the capacity of the artwork to respond to a specific location and place, while simultaneously calling into question the role of the viewer. Often mistaken as size, scale opens up questions of agency in ways that compel reconsideration of what it means to be involved in the creation, circulation, and reception of visual art. Scale requires that viewers regard size as a crucial aspect that enables a material and physical entity to function convincingly as an artwork. How does one think about size as internal to form, or, for that matter, how it frames the artwork as a function of responses between meaning and materiality? In short, scale forces viewers to rethink the artwork in the most visceral terms possible.
Heuristically speaking, scale offers a rich means of making concrete a comparative art history not rooted in geographical or national distinctions. While scale might initially be seen as yet another "universal" category, the purpose of this conference, however, is not to advance a general theory of scale extrapolated from a set of highly subjective case studies. Exploring scale from a wide variety of geographical and chronological perspectives, this conference foregrounds the question of comparative study as mediated through four streams of inquiry: monumentality, scale and labor, the production of scale via different standards of measurements, and miniatures, microcosms, and anti-magnifications. In addressing scale thus, this conference seeks to open further dialogue on questions of method and interpretation often neglected in favor of what is idealistically described as "world art history."


CONFERENCE
Thursday, November 8
10.00
Introductory Remarks
Size Matters
Monumentality
Moderator: Genevieve Warwick (Edinburgh)
10.30-11.15
Oliver Lugon (Lausanne)
Scale and Photography
11.15-11.45 Coffee break
11.45-12.30
Hannah Baader (KHI)
Sublime Gradations
12.30-13.15
Joan Kee (Michigan)
The Measure of the World: Kang Se-hwang's 'Journey to Songdo' (1757)
13.15-14.30 Lunch break
14.30-15.30
Roundtable discussion
15.30-16.00 Coffee break
16.30-17.30
Visit to Alberti's Tempietto in San Pancrazio
(limited to speakers and guests)


Friday, November 9
Politics of Scale
Moderator: Gerhard Wolf
9.30-10.15
Mateusz Kapustka (Zurich)
Globe as Object: Early Modern Compressions of Space between Natural Philosophy and Politics
10.15-11.00
Achim Timmerman (Michigan)
Modelling Infinity: Scale in Western Medieval Architecture and Architectural Thought, c. 1000-1500
11.00-11.30 Coffee break
11.30-12.15
Darcy Grimaldo Grigsby (Berkeley)
Small Empire
12.15-13.15
Round table discussion
13.15-14.30 Lunch break
Measurements, Ratios and Sizing
Moderator: Joan Kee
14.30-15.15
Alessandro Scafi (Warburg)
Measuring the Immeasurable: Eden and the Emergence of Mathematical Scale in Late Medieval Mapping
15.15-16.00
Emanuele Lugli (York)
Burying the Rulers: A Necrophiliac History of Medieval Measurements
16.00-16.30 Coffee break
16.30-17.15
Gerhard Wolf (KHI)
π
17.15-18.15
Roundtable discussion


Saturday, November 10
Miniatures, Microcosms and Anti-magnifications
Moderator: Emanuele Lugli
9.30-10.15
Melissa McCormick (Harvard)
The Built Environment of the Japanese Miniature
10.15-11.00
Margaret Graves (Indiana)
Seeing, Thinking, Shrinking: Making the Built World Small
11.00-11.30 Coffee break
11.30-12.15
Wu Hung (Chicago)
Emperor Jing's (r. 156 to 141 BC) Miniature Posthumous Universe
12.15-13.15
Roundtable discussion
13.15-14.30 Lunch break
14.30-15.30
Visit to the exhibition of the KHI's Photothek
with Costanza Caraffa
15.30-16.00 Coffee break
16.00-16.45
Genevieve Warwick
Conclusive Remarks


LOCATION
Kunsthistorisches Institut in Florenz - Max-Planck-Institut
Palazzo Grifoni - Seminarraum
Via dei Servi 51
I-50122 Firenze
CONTACT
Dr. Emanuele Lugli
E-mail: emanuele.luglikhi.fi.it
FURTHER INFORMATION
http://www.khi.fi.it/en/aktuelles/veranstaltungen/veranstaltungen/veranstaltung388/index.html
Quellennachweis:
CONF: Size Matters (Florence, 8-10 Nov 12). In: ArtHist.net, 19.09.2012. Letzter Zugriff 20.10.2017. <https://arthist.net/archive/3852>.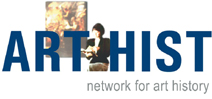 Beiträger: Kunsthistorisches Institut in Florenz - Max-Planck-Institut
Beitrag veröffentlicht am: 19.09.2012
Zu Facebook hinzufügen