CFP: 48th International Congress on Medieval Studies (Kalamazoo, 9-12 May 13)
Kalamazoo, MI, May 9 - 12, 2013
Deadline: Aug 30, 2012
Call for Papers:
48th International Congress on Medieval Studies, Kalamazoo, MI (May 9-12, 2013)
Time and the Medieval Object
Sponsor: The Material Collective
Organizers: Gerry Guest, John Carroll University, and Maggie Williams, William Paterson University.
This session will consider the complex relationship between art objects and time in the Middle Ages and beyond. It proceeds from the notion that medieval things refuse to remain fixed in single temporal moments. Instead, they reach back into the past and also anticipate their future lives through a variety of strategies, both materialist and idealist.
Medieval objects are regularly marked by a temporal instability. Ancient and foreign spolia were integrated into fine golden church furnishings and reliquaries. Composite objects made connections across time through stylistic affiliations and iconographic citations, and they were regularly altered through the addition of new components and the removal of old. They were also subject to wear and tear through ongoing use and occasional repurposing. Gifting and other changes of setting created complex genealogies mapped out over time. Medieval objects continued to exist beyond the Middle Ages, and their impact on subsequent moments in time could also be a focus for proposed papers. Speakers should feel free to draw on theoretical developments in areas such as object-oriented philosophy, thing theory, and other realms of thought.
Please send brief abstracts (no more than 500 words) by August 30, 2012 to Gerry Guest (gguestjcu.edu) and/or Maggie Williams (williamsm11wpunj.edu)
Reference:
CFP: 48th International Congress on Medieval Studies (Kalamazoo, 9-12 May 13). In: ArtHist.net, Jul 17, 2012 (accessed Jan 25, 2020), <https://arthist.net/archive/3663>.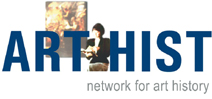 Contributor: Maggie Williams, William Paterson University
Contribution published: Jul 17, 2012
Add to Facebook