tenure track, any level, art history 19th/20th century (Hebr. Univ. Jerusalem)
Application deadline: Feb 16, 2012
Dear List,
please note the announcement issued from the Faculty of the Humanities. It
concerns the position of a modernist in the history of art (from 1800 to
2000). We would appreciate it if you forward this announcement to the
potential candidates.
THE HEBREW UNIVERSITY, JERUSALEM, ISRAEL. Tenure-track, any level, subject to final approval by the administration, beginning fall 2012, but possibly later; Usual: teaching, supervising, and administrative duties. AOS: Open.
PhD prior to application. For further details, see
http://www.hum.huji.ac.il/english/ Or write to limorpsavion.huji.ac.il
Teaching in Hebrew, but first few years can be taught in English.
Please note deadline: February 16, 2012.
Reference:
JOB: tenure track, any level, art history 19th/20th century (Hebr. Univ. Jerusalem). In: ArtHist.net, Jan 6, 2012 (accessed Aug 13, 2020), <https://arthist.net/archive/2498>.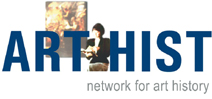 Contributor: Luba Freedman, Jerusalem
Contribution published: Jan 6, 2012
Add to Facebook