CFP: KERAMOS: issue 251 (spring 2021)
Deadline: Oct 31, 2020
[German version below]
KERAMOS is the journal of the Gesellschaft der Keramikfreunde e.V. and has been published quarterly since July 1958. It is the most important German academic publication on ceramic topics, spanning epochs. From 2021 on KERAMOS will appear in two more comprehensive issues per year.
For issue 251 (publication date spring 2021) we are looking for contributions on ceramic topics that can deal with objects from Late Antiquity to the 21st century. They can focus on all ceramic objects from earthenware, stoneware, and faience to porcelain. We would particularly like to encourage contributions that pursue innovative and interdisciplinary academic approaches. These can be devoted to individual works or groups of objects and place them in a broader (art)historical and socio-cultural context, as well as providing theoretical contributions, methodological investigations, approaches to material culture, history of reception and gender aspects, etc. in the field of ceramics.
This call for papers is aimed at both established academics and young researchers from the disciplines of art history, history, sociology, archaeology, anthropology, philosophy, restoration, etc. However, contributions focussing on the economic side of ceramics production (e.g. the art market and the question of art as a commodity) are also explicitly welcome.
There is no character specification for the submitted contributions; they may be longer essays or shorter case studies. We accept submissions in German, English, French and Italian. Please send an abstract in German or English of approximately 300 words and a short CV by October 31, 2020 to the editorial team: joana.mylekgmail.com. If the proposal is accepted, the deadline for sending in the finished text is the end of 2020.
——
Die KERAMOS ist die seit Juli 1958 vierteljährlich erscheinende Zeitschrift der Gesellschaft der Keramikfreunde e.V. und die wichtigste deutschsprachige wissenschaftliche Publikation zu epochenübergreifenden keramischen Themen. Ab Jahrgang 2021 wird KERAMOS in zwei umfangreicheren Ausgaben pro Jahr erscheinen.
Für Heft 251 (Erscheinungstermin Frühjahr 2021) suchen wir Beiträge zu keramischen Themen, die Objekte ab der Spätantike bis ins 21. Jahrhundert behandeln können. Im Fokus können sämtliche keramischen Objekte von Irdenware über Steingut, Steinzeug und Fayence bis zum Porzellan im Fokus stehen. Wir möchten vor allem zu Beiträgen ermutigen, die innovative und interdisziplinäre wissenschaftliche Ansätze verfolgen. Diese können sich einzelnen Werken oder Objektgruppen widmen und diese in einen breiteren (kunst-)historischen und soziokulturellen Kontext stellen sowie theoretische Beiträge, methodologische Untersuchungen, Ansätze der material culture, Rezeptionsgeschichte und Gender-Aspekte etc. auf dem Feld der Keramik liefern.
Dieser Call for Papers richtet sich sowohl an etablierte Akademikerinnen und Akademiker als auch an Nachwuchswissenschaftlerinnen und Nachwuchswissenschaftler aus den Disziplinen Kunstgeschichte, Geschichte, Soziologie, Archäologie, Anthropologie, Philosophie, Restaurierung o. ä. Doch auch Beiträge die sich der wirtschaftlichen Seite der Keramikproduktion widmen (z. B. Kunsthandel und der Frage nach Kunst als Ware) sind ausdrücklich erwünscht.
Für die eingereichten Beiträge gibt es keine Zeichenvorgabe, es können längere Aufsätze oder kürzere Fallstudien sein. Wir akzeptieren Einsendungen auf deutsch, englisch, französisch und italienisch. Bitte senden Sie ein Abstract in deutsch oder englisch mit einem Umfang von ungefähr 300 Wörtern sowie einen kurzen Lebenslauf bis zum 31. Oktober 2020 an das Redaktionsteam unter joana.mylekgmail.com. Bei einem angenommenem Vorschlag ist die Deadline für die Einsendung des fertigen Textes Ende 2020.
Reference:
CFP: KERAMOS: issue 251 (spring 2021). In: ArtHist.net, Sep 23, 2020 (accessed Oct 24, 2020), <https://arthist.net/archive/23602>.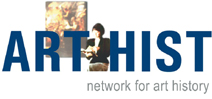 Contributor: Joana Mylek, München
Contribution published: Sep 23, 2020
Add to Facebook