Homo Ex Machina (Essen, 6-7 Mar 20)
Museum Folkwang, 06. - 07.03.2020
Registration deadline: Feb 28, 2020
"Homo Ex Machina" umfasst Aspekte, Fragen und Thesen zum Thema des Menschen im Zeitstrom von Industrialisierung, Technologisierung und Digitalisierung. Behandelt wird das ambivalente Verhältnis des Menschen zu (seinen) Maschinen, von den mechanischen Anfängen bis zu den digitalen Extensionen, dem Verschmelzen mit der Technik. Unter Berücksichtigung der jüngsten Entwicklungen der künstlichen Intelligenz, die aktuell heftige Debatten über die Beherrschbarkeit der entwickelten Techniken auslösen, sowie des Diskurses um den Transhumanismus, ermöglicht nicht zuletzt der Blick ins vergangene Jahrhundert eine Revision des Sujets. Aus dieser historisch-kritischen, rhizomartigen Perspektive werden die vielfältigen Blickweisen auf das Thema sichtbar gemacht. Die international ausgewiesenen Sprecher aus den Bereichen u. a. der Kunstgeschichte, Kulturtheorie, Philosophie, Medienwissenschaften und Journalismus werden eine interdisziplinäre wie zeitgeschichtliche Aufarbeitung des Wechselverhältnisses von Mensch und Maschine bieten – und damit gleichsam die Relevanz der Fragestellung für die Gegenwart verdeutlichen.
Das Symposium findet anlässlich der Ausstellung "Der montierte Mensch" (8. November 2019 – 15. März 2020) statt.
Teilnahme kostenfrei. Begrenzte Teilnehmerzahl
Anmeldung zum Symposium bis 28. Februar 2020 unter: symposiummuseum-folkwang.essen.de
———————————————————
"Homo Ex Machina" comprises aspects, questions and propositions on the topic of humankind in the flow of the timeline of industrialisation, technologisation and digitisation. It examines the ambivalent relationship between man and (his) machines, from the mechanical beginnings through to the digital extensions, the merging with technology. Taking into account the latest developments in artificial intelligence, which are currently triggering heated debates about the controllability of the developed technologies, and the discourse surrounding transhumanism, a look back at the previous century, not least, permits a revision of the subject. From these historico-critical, rhizome-like perspectives, the different ways of looking at this subject emerge. The internationally renowned speakers from areas such as art history, cultural theory, philosophy, media sciences and journalism will offer an interdisciplinary as well as contemporary-historical examination of the interrelationships between humans and machines – and at the same time clarify the relevance, as it were, of the question for the present day.
On the occasion of the exhibition "The Assembled Human" (8 November 2019 – 15 March 2020)
Admission free. Limited number of participants
Registration for the symposium until 28 February 2020 at symposiummuseum-folkwang.essen.de

PROGRAMM / PROGRAMME
6. MÄRZ 2020 / 6 MARCH 2020
10.00 Registrierung / Registration
11.00 Begrüßung / Welcome: Peter Gorschlüter, Direktor / Director, Isabel Hufschmidt, Kuratorin / Curator
11.30 Keynote von / by Anna Fricke, Kuratorin der Ausstellung "Der montierte Mensch" / Curator of the exhibition "The Assembled Human"
PROLOG
ARBEITER BETRETEN DIE FABRIK / WORKERS ENTER THE FACTORY
11.45 Max Hoppenstedt, Journalist / Journalist (Süddeutsche Zeitung), Berlin
Die kybernetische Fabrik: Content Moderatoren, Clickworker und Bio-Hacker
12.30 Mittagspause / Lunch
PANEL
DIE MASCHINE DER ZUKUNFT / THE MACHINE OF THE FUTURE
13.30 Prof. Natasha Vita-More, University of Advancing Technology Affiliation:
Executive Director, Humanity+ Inc., New York
The Body Emergent
14.00 Stephan Urbach, Hacker, Autor & Verleger / Hacker, author, publisher, Berlin
Herrschaft der Maschinen
14.30 Diskussion / Discussion
14.45 Kaffeepause / Coffee break
PANEL
AM LÄNGEREN HEBEL / THE UPPER HAND
15.00 Dr. Reto Schölly, freier Lehrbeauftragter, Albert-Ludwigs-Universität Freiburg, Philosophische Fakultät / Teaching Fellow, Albert-Ludwigs-University of Freiburg, Faculty of Philosophy, UCF
Homo ex machina – Die dritte Schöpfung Teil 2. Über den autopoietischen Konstruktivismus von Maschinen
und Menschheit
15.30 Prof. Elisabeth von Samsonow, Akademie der bildenden Künste, Wien (Anthropologie der Kunst) / Academy of Fine Arts, Vienna (Anthropology of Art)
Welt-Armaturen. Ökologie der Medien und Prothesen
16.00 Diskussion / Discussion
16.15 Apéro

7. MÄRZ 2020 / 7 MARCH 2020
PANEL
TRANSHUMANISMUS / TRANSHUMANISM
11.00 Dr. Janina Loh (née Sombetzki), Universitätsassistentin (PostDoc), Institut für Philosophie, Medien- und Technikphilosophie, Universität Wien / University Assistant (PostDoc), Department of Philosophy, Philosophy of Technology and Media, University of Vienna
Die Utopie einer vollständigen Kontrolle. Kritische Überlegungen zum Transhumanismus und technologischen
Posthumanismus
11.30 Herbert M. Hurka, freier Publizist – Kunst- und Medientheorie / Free-lance publicist – art and media theory,
Freiburg im Breisgau
Der obsolete Körper als Experimentiermasse. Der transhumanistische Performancekünstler Stelarc
12.00 Diskussion / Discussion
12.15 Mittagspause / Lunch
PANEL
DER ERWEITERTE MENSCH / THE AUGMENTED HUMAN
13.15 Dr. Jonas Weber Herrera, Künstler und Autor / Artist and author, Berlin
Cyborgsymptome und übervollständige Körper – Zur Konstruktion und Repräsentation von Transability und Body Integrity Identity Disorder
13.45 Dr. Nathalie Weidenfeld, Autorin, München / Author, Munich
Konstruktion des Roboter-Topos in der westlichen Kultur
14.15 Diskussion / Discussion
14.30 Kaffeepause / Coffee break
PANEL
IM DATENSTROM / IN THE DATA STREAM
14.45 Tim Cole, dt.-amerikan. Internet-Publizist / German-American internet-publicist
Digitale Aufklärung
15.15 Magdalena Kröner, Essayistin, Kunstkritikerin, Düsseldorf und USA / Essayist, art critic, based in Dusseldorf and the USA
Mensch, Cyborg, Alien: Digitale Neukonstruktionen künstlerischer Identität
15.45 Diskussion / Discussion
16.00 Apéro
Moderation / Host: Isabel Hufschmidt
Reference:
CONF: Homo Ex Machina (Essen, 6-7 Mar 20). In: ArtHist.net, Feb 17, 2020 (accessed Sep 20, 2020), <https://arthist.net/archive/22647>.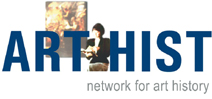 Contributor: Isabel Hufschmidt
Contribution published: Feb 17, 2020
Add to Facebook