Subject editors KUNSTFORM/SEHEPUNKTE
Deadline: Nov 24, 2019
[English below / Français ci-dessous]
Ausschreibung:
FachredakteurInnen KUNSTFORM/SEHEPUNKTE
Das Online-Rezensionsjournal KUNSTFORM veröffentlicht monatlich Besprechungen zu aktueller kunstwissenschaftlicher Literatur. Es erscheint – in Open Access – auch als Teil von SEHEPUNKTE, ein führendes Rezensionsmedium für historisch arbeitende Geisteswissenschaften mit aktuell über 5.000 AbonnentInnen, bisher 17.000 Rezensionen und bis zu 550.000 Seitenaufrufe im Monat.
KUNSTFORM beruht auf ehrenamtlicher Leistung. Aus Anlass seines 20. Jubiläums, das 2020 gefeiert wird, wird das Journal umstrukturiert und es werden engagierte Fachredakteurinnen und Fachredakteure gesucht, die die Entwicklungen in selbst definierten kunstwissenschaftlichen Forschungsfeldern aktiv begleiten. Erwartet wird ein Engagement für zwei Jahre.


KUNSTFORM bietet:
- die Möglichkeit, konkrete Verantwortung zu übernehmen und wissenschaftliche Diskurse aktiv, kritisch, nachhaltig und öffentlichkeitswirksam mitzugestalten. FachredakteurInnen setzen Bücher und RezensentInnen ihrer Wahl in Verbindung. Sie lektorieren die Rezensionen und werden bei jeder Veröffentlichung namentlich aufgeführt.
- die Flexibilität und Reaktivität eines effizienten Redaktionssystems, die Bestellung der Rezensionsexemplare und ihr Versand werden zentral übernommen.
- die einmalige Gelegenheit, in zahlreichen Kooperationen mit RezensentInnen ein Netzwerk aufzubauen und dabei interdisziplinär und international Grenzen zu überwinden. Veröffentlichungssprachen sind Deutsch, Englisch, Französisch und Italienisch. Zur Bedienung des Redaktionssystems sind passive Deutschkenntnisse erforderlich.
Bewerbungen bitte bis zum 24. November 2019 mit kurzer Skizze (eine Seite) des zu vertretenden wissenschaftlichen Feldes, der Motivation und der Erfahrung in wissenschaftlicher Herausgeberschaft und Lektorat mit Angabe der Sprachen, sowie Lebenslauf und Publikationsliste (bitte alles in einer einzigen pdf-Datei) an pcordezdfk-paris.org
Die KUNSTFORM-HerausgeberInnen: Philippe Cordez, Hubertus Kohle, Florian Leitner, Sigrid Ruby und Ute Versteegen
—
Call for applications:
Subject editors, KUNSTFORM/SEHEPUNKTE
The online review journal KUNSTFORM publishes monthly reviews on current art historical literature. It also appears in Open Access as part of SEHEPUNKTE, a leading review forum for the historical sciences with more than 5,000 subscribers, 17,000 reviews to date and up to 550,000 page views per month.
KUNSTFORM relies upon voluntary work. On the occasion of its 20th anniversary, which will be celebrated in 2020, the journal will be restructured and dedicated subject editors will be sought who will actively accompany developments within self-defined art historical fields of research. A commitment of two years is required.


KUNSTFORM offers:
- the possibility to assume concrete responsibility for and to shape scholarly discourses in an active, critical, lasting and visible way. Subject editors connect books with reviewers of their choice. They edit the reviews and are listed by name in every issue.
- the flexibility and responsiveness of an efficient editorial system. The ordering of review copies and their shipment to reviewers are handled centrally.
- the unique opportunity to forge a network through numerous cooperations with reviewers and thereby to work across boundaries on an interdisciplinary and international scale. Publishing languages are German, English, French and Italian. General knowledge of German is required to work with the editorial system.
Please submit by November 24th 2019 a short sketch (one page) of the proposed scholarly field and of your motivation and experience in scholarly publishing and editing (with an indication of languages), as well as a curriculum vitae and publications list, in a single pdf file to pcordezdfk-paris.org.
KUNSTFORM editors: Philippe Cordez, Hubertus Kohle, Florian Leitner, Sigrid Ruby and Ute Versteegen
—
Appel à candidatures:
rédacteurs, KUNSTFORM/SEHEPUNKTE
Le journal en ligne KUNSTFORM publie tous les mois des compte-rendus de publications actuelles en histoire de l'art. Il parait – en open access – également en tant que section de SEHEPUNKTE, l'un des principaux médias de compte-rendus pour les sciences historiques avec plus de 5.000 abonnées, 17.000 compte-rendus à ce jour et jusqu'à 550.000 visites par mois.
KUNSTFORM repose sur le travail bénévole. À l'occasion de ses 20 ans, fêtés en 2020, le journal se reconfigure et recherche des rédactrices et rédacteurs. Ceux-ci accompagneront activement le développement d'un champ de recherche en histoire de l'art tel qu'ils l'auront eux-mêmes définis. Un engagement pour deux ans est demandé.


KUNSTFORM offre:
- la possibilité de prendre une responsabilité concrète et de contribuer aux discours scientifiques de manière active, critique, durable et visible. Les rédactrices et rédacteurs mettent en relation les livres et les auteurs de compte-rendus qu'ils choisissent. Ils et elles éditent les compte-rendus, leur nom apparait à chaque publication.
- la flexibilité et la réactivité d'un système de rédaction efficace, la commande des ouvrages et leur envoi aux auteurs de compte-rendus étant assurés centralement.
- une occasion unique, à travers de nombreuses coopérations avec les auteur.e.s de compte-rendus, de développer un réseau dépassant les frontières disciplinaires et nationales. Les langues Une connaissance de base de l'Allemand est nécessaire pour travailler avec le système de rédaction.
Les candidatures sont à envoyer avant le 24 novembre 2019, avec une courte esquisse (une page) du domaine scientifique visé, de la motivation et des expériences en matière d'édition scientifique (indiquer les langues), ainsi qu'un curriculum vitae et une liste de publications (le tout dans un seul document pdf), à pcordezdfk-paris.org
Les éditeurs et éditrices de KUNSTFORM: Philippe Cordez, Hubertus Kohle, Florian Leitner, Sigrid Ruby et Ute Versteegen
Reference:
ANN: Subject editors KUNSTFORM/SEHEPUNKTE. In: ArtHist.net, Oct 30, 2019 (accessed Jul 8, 2020), <https://arthist.net/archive/21955>.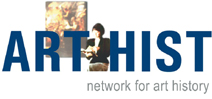 Contributor: Philippe Cordez
Contribution published: Oct 30, 2019
Add to Facebook