Arp and Other Masters of 20th Cent. Sculpture (Basel, 30-31 Oct 19)
Fondation Beyeler, Riehen/Basel, 30. - 31.10.2019
Registration deadline: Oct 13, 2019
[Deutsche Version unten stehend]
Hans Arp & Other Masters of 20th Century Sculpture
Hans Arp (1886-1966) made an important contribution to twentieth-century sculpture with a biomorphic formal language that oriented to nature's processes of change. Arp seized upon the potential inherent to the art of his predecessors and contemporaries. For example, he was interested in the ways artists like August Rodin and Constantin Brancusi reduced the body to the torso and in the use of negative space, which had already garnered significant attention from the avant-garde in the early twentieth century. In turn, numerous artists drew inspiration from Arp's oeuvre. For example, when Henry Moore and Barbara Hepworth encountered his work in the early 1930s, its smooth surfaces and flowing contours had an almost immediate impact on their sculpture. Subsequent generations of sculptors also engaged with Arp's legacy, including the Minimalists, who admired his simplified, anti-mimetic forms.
The reciprocity between Arp and his fellow sculptors is the focal point of conference. Discussion on the topic is meant to anchor Arp's sculptural work within the international development of sculpture in the twentieth century and thereby recognize the significance of his creative production more qualify.
—————————-
Hans Arp (1886-1966) lieferte mit seiner biomorphen, an den Wandlungsprozessen der Natur orientierten Formensprache einen wichtigen Beitrag zum skulpturalen Schaffen des 20. Jahrhunderts. Zahlreiche Künstler zeigten sich inspiriert von Arps Werk. So stießen Henry Moore und Barbara Hepworth in den frühen 1930er-Jahren auf sein Werk, dessen glatte Oberflächen und fließende Konturverläufe sofort Spuren im Oeuvre der Britten hinterließ. Auch spätere Generationen von Bildhauern setzten sich mit Arp auseinander, der etwa von den Minimalisten für seine reduzierten, anti-mimetischen Werke bewundert wurde. Arp wiederum griff Impulse seiner Vorgänger und Zeitgenossen in seinen Arbeiten auf. Er interessierte sich zum Beispiel für Auguste Rodins oder Constantin Brancusis Komprimierungen des Körpers im Torso oder den negativen Raum, der bereits im frühen 20. Jahrhundert von den Bildhauern der Avantgarde große Beachtung fand.
Die Wechselwirkungen zwischen Arp und seinen Bildhauerkollegen stehen im Zentrum der Tagung der Stiftung Arp e. V. Die Diskussion darüber soll dabei helfen, Hans Arps plastisches Werk innerhalb der internationalen Entwicklung der Skulptur des 20. Jahrhunderts zu verorten und dabei die Bedeutung seines Schaffens zu würdigen.


PROGRAM
Wednesday, October 30, 2019
Moderation: Loretta Würtenberger
The Institute for Artists Estates, Berlin
9:30 Registration Fondation Beyeler
10:00 Welcome and Introduction
Sam Keller, Director, Fondation Beyeler
Engelbert Büning, Director, Stiftung Arp e.V
10:30 Raphael Bouvier, Fondation Beyeler, Basel
Rodin / Arp
11:00 Daria Mille,Zentrum für Kunst und Medien, Karlruhe
Hans Arp und der negative Raum
11:30 Meghan R. Luke, University of Southern California
Formlinge: Carola Giedion-Welcker looks at Hans Arp
12:30 - 14:00 Lunch
14:00 Marta Smolińska, University of Arts, Poznań
Der Appell an die Taktilität und die Sensomotorik der Rezipienten: Somaästhetische Redefinitionen des Sockels bei Brancusi, Giacometti und Arp
14:30 Emanuele Greco, Florence
Arp and the Italien Sculptors. The Case of the Relationship with Alberto Viani
15:00 - 15:30 Coffee
15:30 Julia Kelly, Leeds Beckett University
Hans Arp and Henry Moore: Sculpture, Nature and Chance
16:00 Final Discussion
16:30 Guided tour of the current exhibition with Raphael Bouvier
17:00 Apéro


Thursday, October 31, 2019
9:30 Werner Schnell, Universität Göttingen,
Ähnlich, obwohl offensichtlich unähnlich: Paul Richer und Jean Arp evozieren Vorgeschichte als Gegenwart
10:00 Julia Wallner, Georg Kolbe Museum, Berlin
Über den späten Arp und seinen Einfluss auf die Entwicklung der Skulptur in den 1940er- und 1950er-Jahren
10:30-11:00 Coffee
11:00 Jana Teuscher, Stiftung Arp e.V., Berlin/Rolandswerth
Arp und die französischen Bildhauer der 1950er- und 1960er-Jahre
11:30 Christian Spies, Universität Köln
Skulptur und/oder Objekt. Hans Arp und die Minimal Art
12:00 Final Discussion


Venue & Registration:
Fondation Beyeler
Baselstrasse 101, CH-4125 Riehen/Basel
Tagungsbeitrag/Conference fee (Eintritt inkl./entrance fee incl.): 60 Euro/40 Euro (Student*innen/students)
Anmeldung bis/Registration until October 13, 2019, arp2019stiftungarp.de
Reference:
CONF: Arp and Other Masters of 20th Cent. Sculpture (Basel, 30-31 Oct 19). In: ArtHist.net, Oct 7, 2019 (accessed Feb 18, 2020), <https://arthist.net/archive/21751>.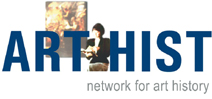 Contributor: Stiftung Arp e.V.
Contribution published: Oct 7, 2019
Add to Facebook