CFP: Index Journal 1: Identity
Deadline: May 31, 2019
INDEX JOURNAL is calling for papers for its inaugural issue IDENTITY.
Submissions are encouraged from art historians of all specialisations.
IDENTITY POLITICS DISSOLVES THE IDENTITY OF THE ARTWORK
INDEX JOURNAL is an independent peer-reviewed art history publication based in Melbourne, Australia. The journal presents original scholarship by art historians from all specialisations, treating the art of the past with the same urgency as it does the art of the present. For each issue, INDEX JOURNAL will invite a guest editor to raise a polemic - in the form of a single proposition - that calls for pressing art historical attention.
Submit an abstract, working title and brief biographical statement to editorsindex-journal.org. INDEX JOURNAL editors will invite selected authors to submit full papers by 31 August 2019.
Abstracts due Friday 31 May 2019
Reference:
CFP: Index Journal 1: Identity. In: ArtHist.net, May 11, 2019 (accessed Apr 2, 2020), <https://arthist.net/archive/20827>.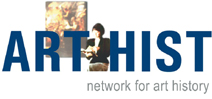 Contributor: Giles Fielke
Contribution published: May 11, 2019
Add to Facebook