CFP: Art History Supplement: The birth of art criticism
Art History Supplement
Deadline: Nov 25, 2011
CFP: The birth of art criticism Art History Supplement (Online Journal)
Submission deadline 25 November2011
This is an open call for papers for the fifth Art History Supplement (AHS) issue.
The proposed theme, but not limited to, is "The birth of art criticism".
Submission deadline 25 November 2011.
What's the difference between art history and art criticism? When did art criticism start as a practise, as a concept, as an academic field of studies? An answer could clearly be along with the art. More, almost every "country" (represented by art historians in this case) for almost the same any reasons could promote a starting point for (both art and) art criticism. What are these reasons and which starting point can be linked to a certain art historian, how and why?
AHS publishes material, dealing with all time periods and/or methodologies, media (incl. cinema, photography, music), techniques, debates within the field of art history.
Contributions to AHS from any other science or discipline (humanitarian or not) corresponding to visual culture or representations of it are more than welcome.
Refer to the new Art Histories Society website (www.arths.org.uk) for more information
Reference:
CFP: Art History Supplement: The birth of art criticism. In: ArtHist.net, Oct 15, 2011 (accessed Oct 29, 2020), <https://arthist.net/archive/2061>.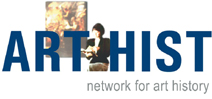 Contributor: Ioannis Tzortzakakis, Aristotle University of Thessaloniki
Contribution published: Oct 15, 2011
Add to Facebook