(Senior) Lecturer, Renaissance/Early Modern Art, University of Lincoln
The School of History and Heritage at the University of Lincoln, UK
Application deadline: Nov 4, 2018
The School of History and Heritage at the University of Lincoln is seeking to appoint an art historian with research interests in Renaissance or Early Modern Art (14th - 17th centuries), with a particular interest in the Classical Tradition. The capacity to teach art history to a broad range of students from different degrees, with an emphasis on the inter- and multidisciplinary nature of art history, is an advantage, as well as the ability to teach beyond the immediate area of expertise. The successful candidate will be expected to contribute to core teaching in the programme in Art History and History, and the Classical Studies degree, to supervise dissertations, and be a personal tutor. All academic staff contribute to a range of activities in support of the School, the University and our students.
The School of History and Heritage is based in the College of Arts, located at the University's main Brayford campus with a view dominated by the magnificent Cathedral. Staff in the school currently work in history, conservation, philosophy and art history. We have expanded our portfolio to deliver programmes in Art History and History, Classical Studies, Philosophy and American Studies over the past two years.
Art History and History is currently taught as an undergraduate BA. There are also two thriving taught MA programmes in Historical Studies and Medieval Studies and a growing number of postgraduate research students. There is a strong and growing team of historians with particular strengths in medieval, Mediterranean, gender and 20th century political and cultural history (Britain and Europe). The team performed very well in REF 2014 with 35% of outputs rated 4*.
The School itself offers a friendly and welcoming working environment. There is a strong collaborative research culture with regular seminars and ongoing support for research activity, including funding for conference activities.
This is a full-time permanent position at 1.0FTE, starting on 1 January 2019.
Lecturer salary from £33,199
Senior Lecturer salary from £38,460
For further details and to apply please see https://jobs.lincoln.ac.uk/vacancy.aspx?ref=COA151A.
Reference:
JOB: (Senior) Lecturer, Renaissance/Early Modern Art, University of Lincoln. In: ArtHist.net, Oct 18, 2018 (accessed Jun 19, 2019), <https://arthist.net/archive/19266>.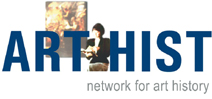 Contributor: Laura Fernández-González
Contribution published: Oct 18, 2018
Add to Facebook