Editor Art Market Dictionary, De Gruyter, Berlin
Berlin
Application deadline: Aug 31, 2018
For more than 260 years we have found, published and distributed the works of science pioneers at De Gruyter (pronounced: [də gʁɔʏ̯tɐ]). In 28 disciplines, from A as in arts, or M as in material sciences, to T as in theology and religion, we produce relevant publications. From Basel, Berlin, Boston, Munich, Beijing, Warsaw and Vienna we send knowledge into the world. And never stop learning - in our culture of courageous zeitgeist, charming enthusiasm and enjoyable expertise. Do you want to know? Welcome to De Gruyter!
Editor Art Market Dictionary (F/M/D)
Berlin | full-time (100%) | at the earliest possible date
Our Reference Management & Development department develops world-class scholarly reference works. In your role you will be responsible for the supervision of the forthcoming Art Market Dictionary (AMD). The position's duration is bound to the duration of the project and is planned to last until December 31, 2019.
Your tasks
- Further development and editing of the AMD in close collaboration with Editor-in-Chief Johannes Nathan (Berlin)
- Independent acquisition of authors and support of the contributing authors as regards content
- Coordination of authors' deadlines and editing of the submitted articles
- Data maintenance in the Content Management System (CMS) and importing new content
- Instruction of supporting freelancers (translators, editors etc.)
- Close cooperation with the departments Art and Database Management & Development
Your profile
- A degree in art history (a doctorate is preferred) and / or very good knowledge of the art market
- Experience with project management and, ideally, experience in the publishing industry
- Very good MS Office knowledge and preferably experience working in or with a CMS
- Native or near-native command of English and good conversational ability in German
- Strong oral and written communication skills
- Efficient and structured working style with a good eye for detail
We offer you
- An exciting professional challenge with one of the innovation drivers of the publishing industry
- Extensive benefits for healthy work-life balance
- Time and space for curiosity, learning and development
- Passionate colleagues in diverse departments
Apply now on our homepage!
https://www.degruyter.com/dg/page/1100?jh=xp1fy8zl8ltnm17h634bkucsc0edc7t
Reference:
JOB: Editor Art Market Dictionary, De Gruyter, Berlin. In: ArtHist.net, Jun 30, 2018 (accessed Nov 23, 2020), <https://arthist.net/archive/18516>.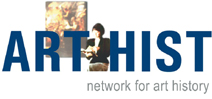 Contributor: Marc Erdorf
Contribution published: Jun 30, 2018
Add to Facebook