Visual Resources, Vol. 27, 2011, Issue 3
Visual Resources
The latest issue of Visual Resources is now available online. This new issue contains the following articles:
ORIGINAL ARTICLES
News from the Field
Murtha Baca
ARTICLES
Portraying Politeness: The Early Georgian Conversation Piece and Its Patrons
Ching-Jung Chen
Less than Playful: Hans Bellmer's Doll Photographs as Archive and Artwork
Cher Krause Knight
"It's Not an Archive": Christian Boltanski's Les Archives de C. B., 1965–1988
Kate Palmer Albers
REVIEWS
Postcards: Ephemeral Histories of Modernity
Anne McCauley
Writing with Light: Words and Photographs in American Texts
James Goodwin
Find out more at
http://www.tandfonline.com/gvir
Reference:
TOC: Visual Resources, Vol. 27, 2011, Issue 3. In: ArtHist.net, Aug 30, 2011 (accessed Jun 6, 2020), <https://arthist.net/archive/1716>.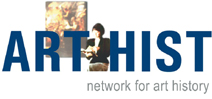 Contributor: Jennifer Roberts, Oxford
Contribution published: Aug 30, 2011
Add to Facebook