British Art Studies, issue 7, 2017
Issue 7 (Autumn 2017) of British Art Studies, an open access and peer-reviewed journal devoted to new research on British art, architecture, and visual culture, is now published and freely available online at:
http://britishartstudies.ac.uk/issues/issue-index/issue-7
Contents:
Articles
Elegant Engravings of the Pacific: Illustrations of James Cook's Expeditions in British Eighteenth-Century Magazines
Jocelyn Anderson
A Photobook of the Shimmer: Pearl Fisheries, Photography, and British Colonialism in South Asia
Natasha Eaton
"The Snob's Chaldron": Alexander Davison and the Private Patronage of History Painting in Early Nineteenth-Century Britain
Katherine Gazzard

Features
Seeing Red, a Cover Collaboration feature with Glenn Adamson, with photography by Richard Caspole
Art by the Many: London Style Cults of the 1960s, a Conversation Piece feature coordinated by Thomas Crow
"From a Sheet of Paper to the Sky", an In the Artist's Words feature by Inga Fraser
The Famous Women Dinner Service: A Critical Introduction and Catalogue, a Look First feature by Hana Leaper
The Famous Women Dinner Service: In Conversation with Contemporary Art, a Look First feature with Judy Chicago, Hana Leaper, and The Women's Art League
British Art Studies is co-published by two research institutes: the Paul Mellon Centre for Studies in British Art, London, and the Yale Center for British Art, New Haven. All back issues can also be read for free at the journal's website: http://britishartstudies.ac.uk/.
Quellennachweis:
TOC: British Art Studies, issue 7, 2017. In: ArtHist.net, 06.12.2017. Letzter Zugriff 20.11.2018. <https://arthist.net/archive/16868>.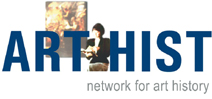 Beiträger: Baillie Card, Editor, Paul Mellon Centre for Studies in British Art, Paul Mellon Centre for Studies in British Art
Beitrag veröffentlicht am: 06.12.2017
Zu Facebook hinzufügen