Summer break - Sommerpause

Summer break - Sommerpause

Dear subscribers,
Liebe Leserinnen und Leser,
H-ArtHist interrupts its service from July 19 until August 28, 2011.
H-ArtHist pausiert vom 19. Juli bis zum 28. August 2011.
Have a good summer!
Einen schönen Sommer!
The editorial board
Die Redaktion
Carolin Behrmann
Livia Cárdenas
Rainer Donandt
Robert Felfe
Elisabeth Furtwängler
Steffen Haug
Godehard Janzing
Karin Leonhard
Caroline Philipp
Wolfgang Sarges
Philipp Zitzlsperger
Reference:
Summer break - Sommerpause. In: ArtHist.net, Jul 19, 2011 (accessed Jun 5, 2020), <https://arthist.net/archive/1682>.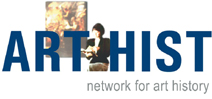 Contributor: H-ArtHist Redaktion
Contribution published: Jul 19, 2011
Add to Facebook