University Assistant, East Asian Art History, University of Vienna
Universiät Wien, September 1, 2017 - September 1, 2021
Bewerbungsschluss: 26.07.2017
kunstgeschichte.univie.ac.at/en/assisten-east-asia-art-history/
Two full positions as University Assistant (prae doc) in Art History of East Asia
Reference number: 7752
The Department of History of Art at the University of Vienna is the biggest Center for Research and education in the visual arts in Austria. It focuses on the visual arts in Europe, Asia, and the Islamic World. Currently there are 2000 students.
The Department of Art History is inviting applications for two full positions as University Assistant (prae doc) specialising in East Asian Art History starting 1 September 2017.
Duration of employment: 4 year/s
Extent of Employment: 30 hours/week
Job grading in accordance with collective bargaining agreement: §48 VwGr. B1 Grundstufe (praedoc) with relevant work experience determining the assignment to a particular salary grade.
Job Description:
The tasks involve support in teaching and research of the Chair in Asian Art History (Prof. Dr. Lukas Nickel), building a research library and database, participation in the preparation of conferences, participation in the administration of the institute, and independent teaching (2 hours per week per semester). The completion of a PhD thesis in the field of East Asian art history is expected.
Profile:
Master degree in Art History or East Asian Studies (or equivalent), excellent language skills in English and one East Asian language (Chinese, Japanese or Korean), experience in library maintenance, team skills, education experience.
Applications including a letter of motivation, CV, diplomas, table of contents and one chapter of master thesis, and an exposé of the dissertation project (German or English) should be submitted via the Job Center to the University of Vienna (http://jobcenter.univie.ac.at) no later than 26.07.2017, mentioning reference number 7752.
For further information please contact Binder, Alexandra +43-1-4277-41413.
For the full announcement see http://kunstgeschichte.univie.ac.at/en/assisten-east-asia-art-history/
Quellennachweis:
JOB: University Assistant, East Asian Art History, University of Vienna. In: ArtHist.net, 14.07.2017. Letzter Zugriff 25.05.2018. <https://arthist.net/archive/15972>.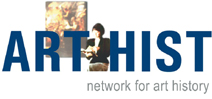 Beiträger: Alexandra Nachescu, University of Vienna
Beitrag veröffentlicht am: 14.07.2017
Zu Facebook hinzufügen