Beyond Disegno? (Florence, 3-5 Mar 16)
Kunsthistorisches Institut in Florenz – Max-Planck-Institut, Palazzo Grifoni Budini Gattai, Via dei Servi 51, 50122 Florence, 03. - 05.03.2016
[deutsche Version siehe weiter unten]
Beyond Disegno? The Emergence of Independent Drawings in Germany and Italy in the 15th and 16th Century
Conference
Concept: Daniela Bohde, Universität Stuttgart und Alessandro Nova, Kunsthistorisches Institut in Florenz
'Disegno' has received great attention from art-historical scholarship for several decades now. Its significance for the art of the Italian Renaissance and for the system of the arts right up to the modern era is indisputable. But artistic developments outside the sphere of 'disegno' easily escape our notice. This is particularly true of independent or finished drawings. Thus it was barely registered that independent drawings were produced in large numbers in Germany after 1500, but remained the exception in Italy. We would expect this situation to be the other way round, given the highly developed culture of drawing in Italy, where artists worked with distinct graphic media and types of drawing. Drawings were collected, and practical aids such as cartoons were exhibited in public and, in the case of Michelangelo, proclaimed the "scuola del mondo". Yet drawings were situated almost exclusively within the working process and – despite the heightened appreciation of 'disegno' – were understood as a preparatory medium that was ultimately just a means to an end.
In the German-speaking sphere, by contrast, no noteworthy theory of art prevailed at the point in time when independent drawings began to spread, but a market was already established for prints in a wide range of graphic techniques, and probably – on a smaller scale – for drawings, too. The aim of the conference is to address this discrepancy. The intention is thereby not only to take a keener look at the practice of drawing, its recipients and its relationship to print culture, but also to enquire what role art theory actually played. For it is evident that the cult of drawing and the ideal of disegno in Italy did not result in the independent drawing also establishing itself there.


The conference is kindly supported by the Deutsche Forschungsgesellschaft, and is organized in cooperation with the Gabinetto Disegni e Stampe degli Uffizi.
—
Jenseits des Disegno? Die Entstehung selbständiger Zeichnungen in Deutschland und Italien im 15. und 16. Jahrhundert
Tagung
Konzeption: Daniela Bohde, Universität Stuttgart und Alessandro Nova, Kunsthistorisches Institut in Florenz
Der 'disegno' steht schon seit einigen Jahrzehnten im Fokus der Forschung. Seine zentrale Rolle für die Kunst der italienischen Renaissance und für das System der Künste bis in die Moderne hinein lässt sich nicht bestreiten. Doch von ihm unabhängige künstlerische Entwicklungen entgleiten leicht der Aufmerksamkeit. Dies gilt besonders für die selbständigen Zeichnungen. So wurde kaum registriert, dass in Deutschland nach 1500 in großer Zahl selbständige Zeichnungen entstanden, diese aber in Italien eine Ausnahme blieben. Der gegenteilige Befund wäre zu erwarten, gab es doch in Italien eine hochentwickelte Zeichnungskultur: Die Künstler verfügten über distinkte Zeichnungsmedien und Zeichnungstypen. Zeichnungen wurden gesammelt, Hilfsmittel wie Kartons wurden öffentlich ausgestellt und im Falle Michelangelos zur "scuola del mondo" erklärt. Doch wurden Zeichnungen fast ausschließlich innerhalb des Werkprozesses verortet und trotz aller Aufwertung des 'disegno' als ein schlussendlich zweckgebundenes und werkvorbereitendes Medium verstanden.
Im deutschen Sprachraum existiert zur Zeit der Ausbreitung der selbständigen Zeichnungen dagegen keine nennenswerte Kunsttheorie, aber ein weit differenziertes Angebot an Druckgraphiken und vermutlich ein kleiner Markt für Zeichnungen. Diese Diskrepanz soll mit der Tagung thematisiert werden. Damit ist nicht nur intendiert, einen schärferen Blick auf die Praxis der Zeichnung, ihre Rezipienten und ihr Verhältnis zur Druckgraphik zu werfen, sondern auch danach zu fragen, welche Rolle die Kunsttheorie tatsächlich spielte. Denn offensichtlich haben der Kult der Zeichnung und das Ideal des disegno in Italien nicht dazu geführt, dass sich auch dort die selbständige Zeichnung etablierte.


Die Tagung findet mit freundlicher Unterstützung der Deutschen Forschungsgemeinschaft vom 3.-5. März 2016 am Kunsthistorischen Institut in Florenz in Kooperation mit dem Gabinetto Disegni e Stampe degli Uffizi statt.


PROGRAMM
DONNERSTAG, 3. MÄRZ 2016
9:30
Alessandro Nova / Daniela Bohde
Saluti / Introduction
Oberitalien als Versuchslabor der selbständigen Zeichnung? / Northern Italy as an Experimental Laboratory for Independent Drawing?
Moderation: Daniela Bohde
10:15
Marzia Faietti
Allegorie morali e politiche nei disegni finiti di Andrea Mantegna e Francesco Francia
11:00 Pause

Moderation: Alessandro Nova
11:30
Karolina Zgraja
Überlegungen zum Portrait als autonome Zeichnung in Venedig und Oberitalien am Übergang vom Quattro- zum Cinquecento
12:15
Carmen Bambach
Drawings by the Sculptor Antonio Lombardo and the Tradition of Venetian Renaissance "disegni finiti"
13:00 Pause


Zeichnungsbücher und Zeichnungsalben in Venedig und Persien / Drawing Books and Drawing Albums in Venice and Persia
Moderation: Hana Gründler
14:30
Norberto Gramaccini
Wem dienten Jacopo Bellinis Zeichnungsbücher?
15:15
Friederike Weis
Autonome Bilder? Persische Zeichnungen mit figürlichen Motiven aus dem 15. und 16. Jahrhundert
16:00 Pause
Die Weiterentwicklung der selbständigen Zeichnung im Venedig des 16. Jahrhunderts / The Further Development of Independent Drawing in Sixteenth-Century Venice
Moderation: Henry Kaap
16:30
Catherine Whistler
Aspects of Drawing, disegno and Print Culture in Renaissance Venice
17:15
Claudia Steinhardt-Hirsch
"Pellegrini Pensieri" – Paolo Veroneses Helldunkelzeichnungen
18:00 Pause
18:30
Christopher Wood
Landscapes by Wolf Huber and Domenico Campagnola, Invented, Copied, and Replicated


FREITAG, 4. MÄRZ 2016
Die Entstehung der selbständigen Zeichnung in Deutschland / The Emergence of Independent Drawing in Germany
Moderation: Britta Dümpelmann
9:30
Iris Brahms
Nehmt zu Dank – Emanzipationsprozesse der Handzeichnung vor 1500 in Nord und Süd
10:15
Christof Metzger
Albrecht Dürer und die Autonomie der Zeichnung
11:00 Pause
Experimente mit der selbständigen Zeichnung in Deutschland und der Schweiz / Experiments with Independent Drawing in Germany and Switzerland
Moderation: Daniela Bohde
11:30
Magdalena Bushart
Albrecht Altdorfers Helldunkelzeichnungen
12:15
Maike Christadler
Narration und Motive zwischen Zeichnung und Druckgraphik: Überlegungen zu Niklaus Manuel Deutsch und Urs Graf
13:00 Pause


Selbständige Zeichnungen in der Sammlung der Uffizien / Independent Drawings in the Collection of the Uffizi
(Gabinetto Disegni e Stampe degli Uffizi – nur für Sprecher/only for speakers)

15:00
Marzia Faietti / Daniela Bohde
Gemeinsame Diskussion von Zeichnungen der Uffizien
Britta Dümpelmann
Möglichkeitsraum und Idealentwurf. Wesen und Wertschätzung nordalpiner Altarentwürfe am Beispiel von Albrecht Dürers Kalvarienberg in den Uffizien
Lisa Jordan
Mind-Settings. Guercino's Landscape Drawings


SAMSTAG, 5. MÄRZ 2016
Die Zeichnung als hybrides Medium / The Drawing as Hybrid Medium
Moderation: Magdalena Bushart
09:30
Caroline Fowler
Chiaroscuro Prints and the Currency of Drawing
10:15
Jacqueline Klusik-Eckert
Zeichnung oder Gemälde? Zum Phänomen des Gattungstransfers am Ende des 16. Jahrhunderts
11:00 Pause


Rezeption und Transformation der Zeichnung / Reception and Transformation of the Drawing
Moderation: Maike Christadler
11:30
Christien Melzer
"Ein Buch, darin der fürnembsten italienischen maister handriß" – Zeichnungen im Kontext frühneuzeitlicher Sammlungen
12:15
Henrike Haug
Questa scarpa serve p(er) bocale. Zu Zeichnungen von Goldschmiedeobjekten nach Giulio Romano
13:00 Abschlussdiskussion
Reference:
CONF: Beyond Disegno? (Florence, 3-5 Mar 16). In: ArtHist.net, Feb 4, 2016 (accessed Jun 16, 2019), <https://arthist.net/archive/12154>.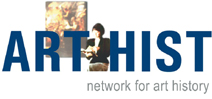 Contributor: Kunsthistorisches Institut in Florenz – Max-Planck-Institut, Kunsthistorisches Institut in Florenz – Max-Planck-Institut
Contribution published: Feb 4, 2016
Add to Facebook