CFP: Art Criticism Now (Nottingham, 26 Mar 14)
University of Nottingham, March 26, 2014
Deadline: Dec 31, 2013
Highfield House, University Park, University of Nottingham
Art criticism now has a confusingly disparate public identity: on the
one hand, highly visible populist journalism, obsessed with blockbusters
and the commodified clichés of Hirst-Emin; on the other hand,
theory-heavy analysis, often academic. And then there is 'Artwriting',
which seems to fuse creative writing with an ideology of anything goes.
Must we share Peggy Lee's sense of resignation: 'Is that all there is'?
What would a more inclusive map of contemporary criticism look like?
What do we expect of criticism? Who is it for? Who writes it? Where is
it published? How have new media changed the status of criticism? Can we
compare criticism across different media? Are there examples from the
past which suggest how criticism should or should not engage with art
and artists, according to what criteria? What has happened to
Baudelaire's injunction that criticism should be 'partial, passionate
and political'? Proposals from critics, editors, readers, artists alike
are welcome addressing any aspect of recent art criticism.
Confirmed speakers:
Stephen Parnell (Architecture, Nottingham), Criticism in the
Architectural Review
Sam Thorne (Frieze) The Crises of Criticism
Matthew Bowman (Essex) Art Criticism in the Contracted Field
Please send proposals to Richard Wrigley
(richard.wrigleynottingham.ac.uk)
Nottingham Institute for Research in Visual Culture
Department of Art History
University of nottingham
University Park
Nottingham NG7 2RD
Reference:
CFP: Art Criticism Now (Nottingham, 26 Mar 14). In: ArtHist.net, Oct 15, 2013 (accessed Nov 12, 2019), <https://arthist.net/archive/6161>.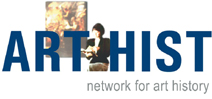 Contributor: Richard Wrigley, university of nottingham
Contribution published: Oct 15, 2013
Add to Facebook