TOC: American Art Vol. 24, No. 3, Fall 2010
American Art
University of Chicago Press
Volume 24, Number 3
(Fall 2010)
is now available
Commentaries
Sensing America
Leo G. Mazow
2-11.
When Seeing Makes Scents
Mark M. Smith
12-14.
The Aural Imagination
Asma Naeem
14-17.
What Does it Mean to "Consume" Images?
Guy Jordan
18-21.
Vision and Visuality
Wendy Bellion
21-25.
Feature Articles
Childe Hassam, Marsden Hartley, and the Spirit of 1916
Patricia Junker
26-51.
Negotiating the Veil: "Tuskegee's" Booker T. Washington Monument
Ellen Daugherty
52-77.
Thomas Eakins and "The Chess Players"
Michael Clapper
78-99.
New Perspective
The Artist as Urban Geographer "Mark Bradford and Julie Mehretu"
Kathryn Brown
100-113.
Research Note
"Unity in Diversity" - Karl Nierendorf and America, 1937–47
Megan M. Fontanella
114-125.
Appreciation
Towering Louise Bourgeois (1911–2010)
Amei Wallach
126-129.
Reference:
TOC: TOC: American Art Vol. 24, No. 3, Fall 2010. In: ArtHist.net, Dec 4, 2010 (accessed Dec 5, 2019), <https://arthist.net/archive/600>.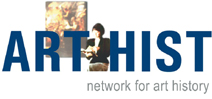 Contributor: University of Chicago Press
Contribution published: Dec 4, 2010
Add to Facebook