CFP: The Multi-Temporal City (Greensboro, 30 Oct-1 Nov 13)
Greensboro NC, October 30 - November 1, 2013
Eingabeschluss: 20.04.2013
Call for Papers for the Panel:
The Multi-Temporal City
(As part of The Southeastern College Art Conference 2013 Annual
Conference, Greensboro NC, October 30 - November 1, 2013)
In Henri Lefebvre's last published text, Rhythmanalysis, he put forward
a new way of understanding the relationship between time and space based
on how rhythms -natural, corporeal and mechanical - influence the city's
urban pulse. By turning the concept of rhythm into an epistemological
tool, Lefebvre provides a new framework for understanding the urban
experience. How does the cadence of the cosmopolitan space synchronize
with an increasingly frenetic world? How do we make sense of this
cacophony? From Greensboro to Guangzhou, the city exists as a historical
entity that changes in concert with different cultural and chronological
periods. The urban space is a fluid, yet geographically contained, locus
for a discussion of space and place. This panel focuses on the city as a
locale caught in a temporal and spatial nexus as it follows its own
unique set of patterns and vibrations. We seek papers examining art
works, artists, or architectural features that engage with the workings
of cities, urban life and movement through the complex cosmopolitan
landscape. Additionally, we encourage submissions that mediate
multi-cultural, multi-sensory, and/or multi-temporal boundaries in an
effort to redefine the way in which we experience the city as a
symphonic, dissonant or utterly silent.
For submission guidelines please visit:
https://secac.memberclicks.net/assets/documents/secac/conference/
secac_2013_call_for_papers.pdf
Session chairs: Martina Tanga, Boston University, and Erin Nolan, Boston
University.
Contact: mtangabu.edu
Quellennachweis:
CFP: The Multi-Temporal City (Greensboro, 30 Oct-1 Nov 13). In: ArtHist.net, 08.03.2013. Letzter Zugriff 20.10.2017. <https://arthist.net/archive/4826>.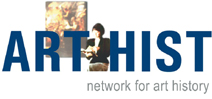 Beiträger: Martina Tanga, Boston University
Beitrag veröffentlicht am: 08.03.2013
Zu Facebook hinzufügen