Image Politics: Pictur(e)ing Climate (Potsdam, 19-20 Jan 2012)
Potsdam, January 19 - 20, 2012
One of the key roles of scientific images involves the potential to visualize scientific objects; when considered in these terms, visualization is nothing less than a method for making the invisible visible. The status of climate visualization is particularly crucial, as they make entities visible which otherwise, as statistical items, could not become evident. This applies to images visualizing climate zones, temperatures, CO2-concentrations, climate history or future scenarios derived from climate models. Climate as an epistemic object is not something which is simply given; it has to be constructed and mediated. Hence pictur(e)ing climate and climate change is a fundamental step in knowledge production and an extraordinary cultural achievement.
However climate science is facing considerable pressure from different expectations: when expert graphics produced by climatologists started to gain currency in the field of policy (as it became a key issue within risk society) they encountered different values and expectations. Scientific research on climate change induced a plethora of image production; images picturing climate range from colourful expert graphics, model visualizations, photographs of extreme weather events like floods, droughts or melting ice, symbols like polar bears, to moving and interactive visualizations; since the 1980s climate graphics have not only increased knowledge about the subject, they have also begun to influence popular awareness of weather events and the instability of landscape.
This workshop seeks to combine a wide interdisciplinary spectrum of perspectives and questions in order to discuss the very different strategies and imaginations that lie behind pictures on climate. In doing so, the visual part of the climate discourse can be critically analysed vis-a-vis politics, technology, science, media and society.
Website: http://www.climatepictures.net
Thursday, 19th January 2012 (PDF Print Version here)
Registration: birgit.schneideruni-potsdam.de
Location: Telegraphenberg, Potsdam, Building H, Room 19.1
(Please note: Different location on Friday!)
10:00 Registration Board and Welcome with coffee
10:30-10:50 Birgit Schneider: Introduction: Image Politics – Pictur(e)ing Climate
SECTION: The Status of Climate Expert Graphs in IPCC Reports
10:50-11:40 Timm Zwickel: The Role of Visualizations in IPCC Working Group III (Technical Support Unit)
COFFEE BREAK
12:00-12:50 Lynda Walsh: Ethos and Stasis: What Classical Rhetoric Can Teach Us About the Graphics in the IPCC Climate Change 2007 Report
LUNCH
14:00-14:50 Guided tour on Telegrafenberg / PIK
SECTION: Enlightening and Convincing via the Internet
15-15:50 Georg Feulner: Twist and Shout: Deceptive Graphs in the Skeptical Climate Blogosphere
15:50-16:40 Markus Wrobel / Dominik Reusser: Communicating Results from Climate Change Research with Web-Based Applications – Issues and Challenges
COFFEE BREAK
17:00-17:50 Julie Doyle: Here Today: Moving Images of Climate Change
BREAK
18:00-18:30 Project Presentations
Friday, 20th January 2012
Location: Potsdam Institute for Climate Impact Research, Telegraphenberg, Potsdam,
Building A 51 (Cupola / "Kuppel")
SECTION: Climate Change, Media and Activism
09:30-10:20 Elke Grittmann: Between Risk and Sublime. A Case Study on the Visualization of Climate Change during the United Nations Climate Change Conference in Copenhagen in 2009 in German Print and Online Media
10:20-11:10 Vera Tollmann: New Strategies deliver New Images. On Artistic Practices in Climate Activism from Nature Snuff to Protest Fiction
COFFEE BREAK
SECTION: Making the Invisible imaginable through Art and Photography
11:30-12:20 Ulrike Heine: Why Photography Matters – The Role of Photographic Images within the Global Climate Change Discourse
12:20-13:10 Edward Morris / Susannah Sayler: Capturing the Public: The Role of Art in Climate Change Discourse
LUNCH
SECTION: Climate Knowledge, Climate Control
14:30-15:20 Gisela Parak: Aerial Survey Photographs and American Survival Patterns: Exploring the Nation's Climatic Conditions
15:20-16:10 James Rodger Fleming: Visualizations of Climate Control – Rube Goldberg meets Dr. Strangelove
COFFEE BREAK
SECTION: The Epistemic Value of Visualization in Climate Sciences
16:30-17:20 Sebastian Grevsmühl: A Hole in the Sky ? Metaphors, Scientific Imagery and Material Culture in Antarctic Research
17:20-18:15 Thomas Nocke: The Role of Visualization in Climate Research Processes – – Final Discussion
Quellennachweis:
CONF: Image Politics: Pictur(e)ing Climate (Potsdam, 19-20 Jan 2012). In: ArtHist.net, 06.12.2011. Letzter Zugriff 16.01.2018. <https://arthist.net/archive/2373>.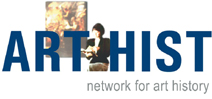 Beiträger: Schneider, Universität Potsdam
Beitrag veröffentlicht am: 06.12.2011
Zu Facebook hinzufügen