RIHA Journal - New Articles
RIHA Journal
(ed. International Association of Research Institutes in the History of Art)
Founded in 2010, RIHA Journal is the peer-reviewed and open access e-journal of the International Association of Research Institutes in the History of Art (RIHA). Devoted to the full range of the history of art and visual culture, RIHA Journal seeks to share materials and knowledge issued by scholars of all nationalities, and by doing so, to make a significant contribution to dissolving the boundaries between scholarly communities.
New articles are online at www.riha-journal.org:
SPECIAL ISSUE
Michele Bacci and Vladimir Ivanovici, eds.:
FROM LIVING TO VISUAL IMAGES. PARADIGMS OF CORPOREAL ICONICITY IN LATE ANTIQUITY
(RIHA Journal 0222-0229)
This thematic issue draws on an international conference co-hosted by the Bibliotheca Hertziana – Max-Planck-Institute for Art History, Rome and the Swiss Institute in Rome. By exploring the various traditions of iconic living present in the Roman world in the period preceding the affirmation of the icon, the contributions recreate part of the context in which the concept of icon was formed. In addition, they invite readers to add a new perspective on the phenomenon: that of surrogate for the living iconic body.
Michele Bacci and Vladimir Ivanovici:
From Living to Visual Images. Paradigms of Corporeal Iconicity in Late Antiquity – Introduction
Valerio Neri:
The Emperor as Living Image in Late Antique Authors
Bogdan G. Bucur and Vladimir Ivanovici:
"The Image of Adam's Glory": Observations on the Early Christian Tradition of Luminosity as Iconic Garment
Hannah Hunt:
Transvestite Women Saints: Performing Asceticism in Late Antiquity
Susanna Elm:
An Icon of Ugliness – Eutropius the Eunuch
Donatella Tronca:
Spectacula turpitudinum. Christian Schemata of the Dancing Body
Vladimir Ivanovici and Sissel Undheim:
Consecrated Virgins as Living Reliquaries in Late Antiquity
Chiara Croci:
In Search of a Divine Face. Physiognomy and the Representation of Sanctity in Christian Art
INDIVIDUAL ARTICLES
Jacopo Curzietti:
Sull'origine francese di Giulio Cartarè (1642–1699). Documenti e precisazioni in merito al nucleo familiare dell'ultimo allievo di Gian Lorenzo Bernini
(RIHA Journal 0230)
Sylva Dobalová:
The Great Ball Game Hall of Prague Castle: Its Appearance and Function in the Context of Habsburg Renaissance Ballcourts
(RIHA Journal 0231)
As a genuine e-journal, RIHA JOURNAL publishes continously. We keep you up to date with new articles by quarterly postings. Or you may subscribe to our RSS Feed (http://www.riha-journal.org/articles-rss/RSS) or follow us on Twitter (https://twitter.com/RIHAJournal).
RIHA JOURNAL welcomes submissions on any topic in the history of art and throughout the year, both from members of the RIHA institutes and from any other researchers in the history of art.
If you would like to submit an article, please contact our Local Editors at the worldwide RIHA Institutes (http://www.riha-journal.org/contact) or our Managing Editor at Zentralinstitut für Kunstgeschichte in Munich:
Dr. Andrea Lermer
Managing Editor RIHA Journal
Zentralinstitut für Kunstgeschichte
Katharina-von-Bora-Str. 10
D-80333 München
Tel 0049 (0)89 289 27588
Reference:
TOC: RIHA Journal - New Articles. In: ArtHist.net, Jan 15, 2020 (accessed Aug 9, 2020), <https://arthist.net/archive/22415>.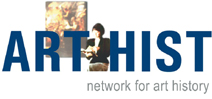 Contributor: Andrea Lermer
Contribution published: Jan 15, 2020
Add to Facebook