Rijksmuseum Fellowship Programme
Amsterdam
Application deadline: Jan 19, 2020
www.rijksmuseum.nl/en/fellowships
The Rijksmuseum Fellowship Programme is open to the new generation of museum professionals: inquisitive specialists who will further develop understanding of Netherlandish art, history and museology for the future.
We are currently accepting applications until 19 January 2020 for the following Fellowships:
• Andrew W. Mellon Fellowship for research in art and cultural history
• Terra Foundation Fellowship for research in American photography
• Dr. Anton C. R. Dreesmann Fellowship for art historical research
• Johan Huizinga Fellowship for historical research
• Migelien Gerritzen Fellowship for conservation and scientific research
More information and eligibility requirements: https://www.rijksmuseum.nl/en/fellowships
Reference:
STIP: Rijksmuseum Fellowship Programme. In: ArtHist.net, Nov 23, 2019 (accessed Jun 1, 2020), <https://arthist.net/archive/22154>.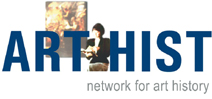 Contributor: Marije Spek, Rijksmuseum
Contribution published: Nov 23, 2019
Add to Facebook