Art and Science of the Moon (London, 14-15 Nov 19)
Royal Museums Greenwich, London, November 14 - 15, 2019
To mark the fiftieth anniversary of humanity's first footsteps on another world, Royal Museums Greenwich (RMG) is hosting a major exhibition exploring our evolving relationship with the Moon across times and cultures. The Moon (19 July 2019 – 5 January 2020) presents a scientific and cultural history of our nearest celestial neighbour, exploring its role as a mirror for humanity's dreams, obsessions and endeavours.
With contributions from academics, artists and curators exploring the interface between art, in its widest sense, and science, this conference will consider various creative responses to our cosmic companion. In keeping with RMG's interest in interrogating the collision of science, history and art, 'The Art and Science of the Moon' will explore how the Moon's motions and phases have influenced human activities, beliefs and behaviours; how sustained scrutiny of the lunar surface have enabled us to understand more about ourselves; how attempts, imaginary and real, to reach this other world have fostered creativity and technological progress; and how in the 21st century we are rethinking our relationship with the Moon.


PROVISIONAL PROGRAMME
The conference will take place in the lecture theatre of the National Maritime Museum.
THURSDAY 14 NOVEMBER
9.30am - 10am Registration and refreshments
10am - 10.15am Welcome from Melanie Vandenbrouck, Lead Curator of The Moon, and opening remarks from Louise Devoy, Senior Curator, Royal Observatory Greenwich
10.15am - 11.15am Session 1: Landscapes and Lunar observation
Victor Dos Reis (University of Lisbon)
Uncertainty, Inaccuracy and Bravery: art, science and technology in the lunar landscapes of Galileo
Natalia Bosko (Art historian)
The Moon in the Early Artwork of J.M.W. Turner
11.15am - 11.45am Coffee and tea
11.45am - 1.15pm Session 2: Capturing Moonlight
Kelley Wilder (De Montfort University, Leicester)
Moonlight and the 'speed' of photography
Melanie King (Lumen and London Alternative Photography Collective)
Celestial Light
Paul Gaffney (University of Ulster, Belfast)
Perigee – a moonlit photographic exploration of the Ardennes
1.15pm - 2.30pm Lunch, including opportunity to visit the exhibitions The Moon and Insight Astronomy Photographer of the Year
2.30pm - 4pm Session 3: The Female Moon
Stella Papakonstantinou (independent scholar, Athens)
The Moon and Ancient Greek Drama
Matilda Pye (Royal Museums Greenwich and V&A Research Institute)
Mortal Moon: Susan Derges
Bettina Forget (Concordia University, Canada)
Women with Impact
4pm - 5.30pm Exhibitions visits (various locations)
Delegates to divide in groups to see Mortal Moon: Susan Derges (Queen's House) with Matilda Pye; The Moon (Special Exhibitions Gallery, National Maritime Museum) with Louise Devoy, Megan Barford and Melanie Vandenbrouck, and Insight Astronomy Photographer of the Year (Photography Gallery, National Maritime Museum).
5.30pm - 6.30pm, Plenary Lecture
Professor Paul Murdin OBE (Institute of Astronomy, Cambridge)
6.30pm - 7.30pm Drinks reception
FRIDAY 15 NOVEMBER
10am - 10.30am Arrival and refreshments
10.30am - 11.30am Session 4: Lunar Rhythms
Rhianna Elliott (University of Cambridge)
Blood, bodies and the moon: creating a child in early modern medical texts
Laura Williams (The Aluna Foundation)
Aluna, a monumental public timepiece for Greenwich
11.30am - 12.30pm Guest Lecture
Dallas Campbell (author and broadcaster)
'Bodies in space'
12.30pm - 1.30pm Lunch, including opportunity to visit the exhibitions The Moon and Insight Astronomy Photographer of the Year
1.30pm - 3pm Session 5: Contested terrain
Richard Dunn (Science Museum)
Lunar Fictions
Jake Silver (Duke University, USA)
Political gravities: the cultural and colonial dimensions of lunarity in Israel/Palestine
Emily Hsiang (Lund University, Sweden)
Racing to the Moon – With a Free Market
3pm - 3.30pm Coffee and tea
3.30pm - 4.30pm Engaging with the cosmos: Katie Paterson in Conversation with Curator of Art Melanie Vandenbrouck
4.30pm - 5.30pm Round table discussion and wrap up
Reference:
CONF: Art and Science of the Moon (London, 14-15 Nov 19). In: ArtHist.net, Oct 11, 2019 (accessed Sep 25, 2020), <https://arthist.net/archive/21802>.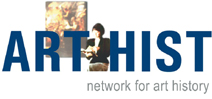 Contributor: melanie Vandenbrouck
Contribution published: Oct 11, 2019
Add to Facebook