Arnolfini Histories (London, 12-13 Jan 18)
The National Gallery, London, January 12 - 13, 2018
International Conference
Arnolfini Histories: Jan van Eyck's Arnolfini Portraits and its Receptions
Acquired by the National Gallery in 1842, Jan van Eyck's 'Arnolfini Portrait' (1434) with its rich colours, precise detail, and enigmatic symbolism had a profound and lasting impact upon the young Pre-Raphaelite artists who banded together six years later to challenge the art establishment of the day. Fascination with Van Eyck's painting persisted in artistic circles and the public imagination alike, and the Arnolfini Portrait came to achieve almost cult-like status in the ongoing discussions around the art-historical canon. Van Eyck's potent influence on the avant-garde painting of the P.R.B. initiated a transhistorical visual dialogue with ramifications that can be traced throughout the development of the Pre-Raphaelite movement and beyond.
A collaboration between the National Gallery and the University of York, with generous support from the government of Flanders and York Art History Collaborations (YAHCs), the conference is organised in conjunction with the exhibition 'Reflections: Van Eyck and the Pre-Raphaelites' (Sunley Room, National Gallery, 2 October 2017 – 2 April 2018, in collaboration with Tate), and will explore the complexities of the relationship between Van Eyck and the Pre-Raphaelites. Areas of discussion include: Netherlandish art and its nineteenth-century reception, conservation and technique, colour, mirrors and reflections, painting, literature, photography, and the materiality of things in the 'Arnolfini Portrait'. The keynote papers will be delivered by Tim Barringer (Yale University) and Cordula Grewe (Indiana University).
The 'Arnolfini Histories' conference is convened by Professor Liz Prettejohn (University of York) and Dr Claire Yearwood.
PROGRAM
Friday 12 January
10.00-10.30 – Registration, with coffee/tea
10.30-10.45 – Welcome by Gabriele Finaldi (Director, National Gallery)
Introduction and Welcome by Liz Prettejohn (University of York)
10.45-12.45 – Panel I: Mirrors, Arnolfini and Others
(3 x 30-minute papers plus 30-minute discussion)
Claire Yearwood (University of York)
Reversing the Requirement of Science: Pre-Raphaelite Reflections of Van Eyck's Mirror
Maria Rosa Figueiredo (Calouste Gulbenkian Museum, Lisbon)
The Gulbenkian Exhibition 'Beyond the Mirror'
Robert Upstone (independent scholar)
Mirrors in the Work of William Orpen
12.45-2.00 – Lunch (not provided)
2.00-4.15 – Panel II: Conservation and Technique
(3 x 30-minute papers plus discussion)
Marika Spring and Susanna Avery-Quash (National Gallery)
Sir Charles Eastlake and the Reception of Northern European Painting in Britain during the 19th Century
Jason Rosenfeld (Marymount Manhattan College)
New Art from Old: The Pre-Raphaelites and Early Italian Painting
Joyce Townsend (Tate)
Reflections:/ Il Dolce far Niente/ and other paintings
4.15-4.30 – Break (no refreshments)
4.30-5.15 – Plenary I
Tim Barringer (Yale)
Ford Madox Brown and the North


Saturday 13 January
Before 10am – Private View of exhibition for speakers and conveners only
10.00-10.15 – Registration for those attending only on Saturday
10.15-11.15 – Arnolfini Things – Post-Graduate Student Session
Robert Wilkes (Oxford Brookes University)
Joining Hands: The /Arnolfini Portrait and F.G. Stephens's The Proposal
Debra Phillips (Australian Catholic University)
With this shoe, I thee wed: Interpreting the symbol of the shoe as a transaction confirmation in Van Eyck's /Arnolfini Portrait
Georgios Miliaras (University of Edinburgh)
Out the Window: From the Apples of Paradise to Still Life; The American Pre-Raphaelites
Christin Neubauer and Charlotte Hone (University of York)
The Pre-Raphaelite Re-interpretation of Van Eyck's Paternoster in the /Arnolfini Portrait/as a Symbolisation of Victorian Gender Constructions
11.15-11.30 – Break (no refreshments)
11.30-12.45 – Panel III: Van Eyck and Modern Art
Marjorie Coughlan (University of York)
The Art of Photography and the Photography of Art: Victorian and Contemporary Exploitation of the Tableau Vivant
Martin Hammer (University of Kent)
Mr and Mrs Arnolfini: Van Eyck Through the Eyes of David Hockney
12.45-2.00 – Lunch (not provided)
2.00-4.00 – Panel IV: Nineteenth-Century Receptions of Van Eyck
(3 x 30-minute papers plus 30-minute discussion)
Jan Dirk Baetens (Radboud University Nijmegen, Netherlands)
Flemish Primitives, Belgian Moderns: Reception and Appropriation of Late-Medieval Netherlandish Painting in Nineteenth-Century Belgium
Jenny Graham (Plymouth University)
The 'Strange Mirror Picture': A Nineteenth-Century Historiography of the Arnolfini Portrait
Jeanne Nuechterlein (University of York)
Early Netherlandish Paintings as Historical Specimens in the National Gallery
4.00-4.15 – Break (no refreshments)
4.15-5.15 – Plenary II
Cordula Grewe (Indiana University)
Quellennachweis:
CONF: Arnolfini Histories (London, 12-13 Jan 18). In: ArtHist.net, 07.12.2017. Letzter Zugriff 10.12.2018. <https://arthist.net/archive/16901>.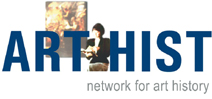 Beiträger: Claire Yearwood, University of York
Beitrag veröffentlicht am: 07.12.2017
Zu Facebook hinzufügen