Frame Journal (Inaugural Issue)
The inaugural issue of Frame: a Journal of Visual and Material Culture is online! Read it now at http://www.framejournal.org/
Contents include:
"The Eye of Hubble: Framing Astronomical Images" by Evan Snider
"From Metaphysics to Metadata: Aesthetics and Politics of Interface" by Nicola Bozzi
"Exotic Follies: Sanderson Miller's Mock Ruins" by Lauren Kaplan
"You Marxist, I Clean Toilet: Racism, Labor, and the Bathroom Attendant" by Tara Alturi
"Women's Cinema/Artist's Cinema: Spectator in Nashashibi's The Prisoner" by Gillian Sneed
"Harold Edgerton and Complications of the 'Photographic Instant'" by Kris Belden-Adams
as well as an Introduction by Frame's co-editors, Annie Dell'Aria and Shawn Rice
And remember to check the site often, as we will be rolling out a Reviews section for events and publications in the near future.
If you would like to contribute to Frame or have any other comments or inquiries, please drop us a line at editorframejournal.org .
—-
About Frame:
Frame is a peer-review, re-imagined, transdisciplinary rebirth of pART, an art history journal housed at the Graduate Center of the City University of New York. While pART focused solely on art history, Frame has moved away from the restrictive domain of one discipline in order to give space to a variety of scholars who produce work pertinent to visual and material culture in ways that transgress traditional disciplinary borders. In addition, it is a venue in which the notions of "visual," "material," and "culture" are to be interrogated so as to move beyond what and how we think these terms.
Reference:
TOC: Frame Journal (Inaugural Issue). In: ArtHist.net, Mar 18, 2011 (accessed Oct 2, 2020), <https://arthist.net/archive/1075>.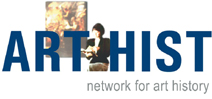 Contributor: Annie Dell'Aria, The Graduate Center, City University of New York
Contribution published: Mar 18, 2011
Add to Facebook