Technical instructions
Subscription, Change of address, Temporary absence, Digest, Sign off
For making changes to your ArtHist.net subscription, please use our web form. Here, you can unsubscribe, change your email address, or temporarily sign off from mailings for a holiday break.
If you no longer have access to the email account with which you are registered at ArtHist.net, please write to the editors.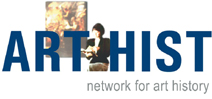 Become a member
Be part of the world's largest international network for art history ArtHist.net.
Register online and you receive subject-specific postings regularly by e-mail.
All ArtHist.net postings are also available as RSS-feed or via Twitter.
Registration