Mailing-List
What is H-ArtHist?
H-ArtHist is a specialized discussion and information network for art history. It is a member of the H-Net - Humanities & Social Sciences Online. An international consortium of scholars and teachers, H-Net coordinates Internet networks with the common objective of advancing teaching and research in the arts, humanities, and social sciences. H-Net is committed to pioneering the use of new communication technology to facilitate the free exchange of academic ideas and scholarly resources.  H-Net discussion lists reach over 100,000 subscribers in more than 90 countries. H-Net is the largest group of electronic networks in the humanities and cultural studies (for more information see h-net.org).
H-ArtHist has developed into a well-established information network for art historians all over the world with currently around 11.500 subscribers.
H-ArtHist is refereed and edited by an independent board, which may also commission contributions such as review articles. H-ArtHist editors are responsible for the selection of the news, guarantee the compliance with quality standards, and process and archive the published articles on the web. Essential aspects of the editorial board's policies are formulated in the H-Net constitution and by-laws.
H-ArtHist is supported by an academic advisory council which is committed to the project.
All messages posted by H-ArtHist are stored and can be found on our archive + search page. The archive is free and open to everyone.
All H-ArtHist messages are also available as RSS-feed.
In accordance with the editorial lines of major scholarly journals in the field of art history, contributions will be accepted in English, French, Italian and German. 
How do I use H-ArtHist?
Subscription to H-ArtHist is free and available to any qualified individual. Those interested are kindly requested to fill in an  application form.  
The subscribers of H-ArtHist will receive regular e-mails, depending on the supply of relevant information and contributions. You can unsubscribe any time, or receive mails in digest form, by simply sending an e-mail to the listserver (see instructions).
If you want to contribute to H-ArtHist, please contact the editorial board or simply use our online interface.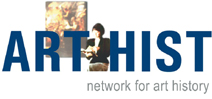 Become a member
Be part of the world's largest international network for art history.
Register online and you receive subject-specific postings regularly by e-mail.
All H-ArtHist postings are also available as RSS-feed or via Twitter.
Registration