CFP: Session at LASA (Boston, 24-27 May 19)
Latin American Studies Association, 53rd International Congress, Boston, USA, May 24 - 27, 2019
Deadline: Aug 24, 2018
[Spanish version below]
Reclamation, Revision, Resistance: Feminism and the Maternal in Post-1968 Latinx and Latin American Art
Limited by patriarchal definitions, the maternal has historically functioned as a mechanism to maintain and justify women's exclusion from serious discussions about art making. Despite this, the maternal has also maintained an alternative history, existing as a long-standing tool in women's creative and political practices across the globe. This was very much the case in the decades following 1968, a period that welcomed a surge in Latinx and Latin American artists utilizing the maternal as a symbol of feminist resistance and a methodological tool to resist totalizing narratives, often in the face of authoritarian regimes and/or violent economic crises. Evidenced most recently by the prominent place of motherhood as a key thematic in 2017–18's landmark exhibition, Radical Women: Latin American Art, 1965-85, the maternal has been practically, iconographically, and conceptually accessed by a variety of artists to claim agency, visibility, and political rights. The development of scholarship that seeks to address the relationship between feminism, art, and the maternal has been invaluable to the study of this period, however, on a global scale, the focus of maternal aesthetic studies has focused almost exclusively on white, middle class, heterosexual artist-women. This session seeks to open a collaborative dialogue surrounding the convergences of feminist politics and theory, activism, and issues related to the maternal found within Latinx and Latin American artistic practices post-1968. Papers might address (but are not limited to) artists and works that disrupt patriarchal expectations and representations of motherhood; imagine alternative maternal performances, symbolisms, and identities; utilize the maternal to subvert binaries, such as private/public; and/or otherwise reclaim, revise, and deploy the maternal as a mechanism of resistance within visual culture. We are also interested in papers that offer maternal perspectives on and/or revisions of contemporary narratives of post-1968 Latinx and Latin American art history. Papers need not be limited to women-identified artists, but can focus on any Latinx and Latin American artists who engage with the maternal under a feminist lens. We also welcome papers from Latinx and Latin American artists currently involved in this type of creative work.
Abstracts of 250 words along with a short bio can be sent to Sophie Halart (sophie.halartgmail.com) and Erin L. McCutcheon (emccutchtulane.edu) by Aug. 15, 2018 (emccutchtulane.edu).
—-
"Recuperación, revisión, resistencia: el feminismo y lo materno en el arte Latinx y Latinoamericanx después del 1968"
Limitada por las definiciones patriarcales, lo maternal ha funcionado históricamente como un mecanismo para mantener y justificar la exclusión de las mujeres de discusiones serias sobre la creación de arte. A pesar de esto, lo materno también ha mantenido una historia alternativa, que existe como una herramienta en las prácticas creativas y políticas de las mujeres en todo el mundo. Este fue el caso en las décadas siguientes a 1968, un período que dio la bienvenida a una oleada de artistas Latinx y Latinoamericanxs que utilizaban lo materno como un símbolo de la resistencia feminista y una herramienta metodológica para resistir las narrativas totalizadoras, a menudo en el rostro de los regímenes autoritarios y/o crisis económicas violentas. Evidenciado más recientemente por el lugar prominente de la maternidad como una temática importante en la exposición histórica de 2017-18, Mujeres radicales: Arte Latinoamericano, 1965-85, lo materno ha sido accedido prácticamente, iconográficamente, y conceptualmente de una variedad de artistas para reclamar la agencia, la visibilidad y los derechos políticos. El desarrollo de erudición centrado en la relación entre el feminismo, el arte y lo maternal ha sido de gran valor para el estudio de este período, sin embargo, el enfoque de los estudios estéticos maternales se ha centrado casi exclusivamente en las artistas-mujeres blancas, de clase media, y heterosexual.
Esta sesión busca abrir un diálogo colaborativo en torno a las convergencias de la política feminista y la teoría, el activismo y los temas relacionados con lo maternal encontrada dentro de las prácticas artísticas Latinx y Latinoamericanxs después del 1968. Ponencias pueden abordar (pero no se limitan a) artistas y obras que: interrumpen las expectativas patriarcales y las representaciones de la maternidad; imaginan actuaciones maternas alternativas, simbolismos e identidades; y/o de otra manera reclaman, revisan y despliegan la maternal como un mecanismo de resistencia dentro de la cultura visual. También nos interesan las ponencias que ofrecen perspectivas maternas sobre y/o revisiones de las narrativas contemporáneas de la historia del arte Latinx y Latinoamericanx después del 1968. Las ponencias no se limitan a las mujeres artistas, pero pueden centrarse en cualquier artista(s) Latinx y Latinoamericanxs que usan lo maternal con una perspectiva feminista. También nos dará gusto recibir ponencias de artistas Latinx y Latinoamericanxs involucrados actualmente en este tipo de trabajo creativo.
Enviar el abstract de la ponencia de 250 palabras junto con una biografía corta, a Sophie Halart (sophie.halartgmail.com) y Erin L. McCutcheon (emccutchtulane.edu) antes del 24 de Agosto 2018.
Reference:
CFP: Session at LASA (Boston, 24-27 May 19). In: ArtHist.net, Jul 14, 2018 (accessed Apr 25, 2019), <https://arthist.net/archive/18631>.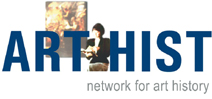 Contributor: Sophie Halart
Contribution published: Jul 14, 2018
Add to Facebook