Your announcement
Please submit your message in an email-compatible format. Note that submission of a message through this online-form does not imply a claim for publication. The editorial board of H-ArtHist reserves the right to edit and/or abbreviate the text of your message. See also our Categories and Criteria.
Conference announcements (CONF) are only published with the complete program.
By submitting this form, you confirm that you are authorized to publish this information.
H-ArtHist interrupts its service from July 19 until Septmber 5, 2016.
The contribution form is disabled.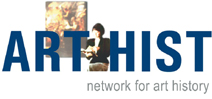 Become a member
Be part of the world's largest international network for art history.
Register online and you receive subject-specific postings regularly by e-mail.
All H-ArtHist postings are also available as RSS-feed or via Twitter.
Registration