Contact
How to contact the discussion list
E-Mail
For all questions and suggestions concerning the editorial work, please use our joint e-mail account  
Please use our online interface to post your announcement on the list, or else send an e-mail to:
All messages will be automatically forwarded to the editor in charge.
Please note: These addresses do not accept attachments! We recommend to use only the plain text format (ASCII). For documents that require a different format, please write directly to one of the editors.
Postal address (for review copies, catalogues, publishers' information etc.)
Humboldt Universität zu Berlin
Institut für Kunst- und Bildgeschichte
Redaktion H-ArtHist
Haug / Zitzlsperger
Georgenstraße 47
10117 Berlin
Germany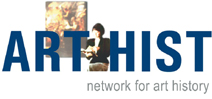 Become a member
Be part of the world's largest international network for art history.
Register online and you receive subject-specific postings regularly by e-mail.
All H-ArtHist postings are also available as RSS-feed or via Twitter.
Registration