CFP: Material Evidence, Visual Knowledge (Los Angeles, 30 Apr-1 May 15)
Los Angeles, CA, April 30 - May 1, 2015
Deadline: Nov 20, 2014
Call for Papers
USC Visual Studies Research Institute
Material Evidence, Visual Knowledge
This two-day conference builds on the USC Visual Studies Research
Institute 2014-15 theme of Material Evidence and asks how materiality
studies have contributed new insights to Visual Studies. While there is
a substantial body of literature on materiality, we seek papers that
focus on the question of material evidence and the ways that it
intersects with, opposes, and/or redefines visual knowledge. In
particular, the conference examines how the technical examination of
objects and the use of both new and old tools—from microscopy,
chemistry, and photo enlargement to digital manipulation—have rendered
new knowledge. How has a concern for the material dimensions of objects
helped to reconsider and expand the visual experience? What are the
implications for materially oriented fields, such as art history,
design, material culture, archaeology, or even engineering, medicine,
and forensics? On the other hand, how has what we used to consider
visual evidence become materialized? And to what ends has material
evidence been applied or interpreted? We welcome abstracts from both
junior scholars who have earned the Ph.D. and senior scholars for
pre-circulated 20-page papers that deal with the topic of material
evidence from any historical era and a wide perspective of disciplinary
approaches. Speakers will be reimbursed for travel expenses and receive
lodging in Los Angeles.
Submit a 250-word (1 page) abstract, cv and contact information by
November 20 to: vsriusc.edu. Questions, please contact Professor
Vanessa Schwartz: vschwartusc.edu or Amy Ogata: amyogatausc.edu
Reference:
CFP: Material Evidence, Visual Knowledge (Los Angeles, 30 Apr-1 May 15). In: ArtHist.net, Oct 11, 2014 (accessed Mar 31, 2020), <https://arthist.net/archive/8630>.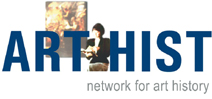 Contributor: Amy Ogata
Contribution published: Oct 11, 2014
Add to Facebook