CFP: Annual Graduate Symposium (Tallahassee, 18-19 Oct 13)
Florida State University, October 18 - 19, 2013
Eingabeschluss: 01.08.2013
Call for Papers
31st Annual Art History Graduate Symposium
Keynote Speaker: Magali Carrera, Chancellor Professor of Art History at
the University of Massachusetts, Dartmouth
The Art History faculty and graduate students of The Florida State
University invite students working toward an MA or a PhD to submit
abstracts of papers for presentation at the Thirty-First Annual Art
History Graduate Student Symposium.
Paper sessions will begin on Friday afternoon, October 18, and continue
through Saturday, October 19, with each paper followed by critical
discussion. Symposium papers may come from any area of the history of
art and architecture. Papers will then be considered for inclusion in
Athanor, a nationally-distributed journal published by the Department of
Art History and the FSU College of Visual Arts, Theatre & Dance.
The deadline for receipt of abstracts (maximum 500 words) is August 1,
2013.
Please include the title of the talk, graduate level, and whether the
subject originated in thesis or dissertation research.
Send the abstract by email to:
lajonesfsu.edu
Dr. Lynn Jones, Symposium Coordinator
Department of Art History
The Florida State University
Quellennachweis:
CFP: Annual Graduate Symposium (Tallahassee, 18-19 Oct 13). In: ArtHist.net, 08.03.2013. Letzter Zugriff 18.10.2017. <https://arthist.net/archive/4824>.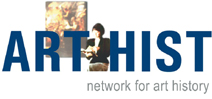 Beiträger: Lynn Jones
Beitrag veröffentlicht am: 08.03.2013
Zu Facebook hinzufügen