Institutional Fellowships of the Samuel H. Kress Foundation
Application deadline: Nov 30, 2011
The Samuel H. Kress Foundation has revised the application procedures for the Foundation's Institutional Fellowship program.
For more information and the guidelines, please see the ZI website http://www.zikg.eu/main/news.htm#Kress or/and http://www.kressfoundation.org/fellowships/default.aspx?id=52.
Applications must be received by November 30, 2011.
If you want to apply for a fellowship at the Zentralinstitut fuer Kunstgeschichte in Munich, please don't hesitate to contact Dr. Iris Lauterbach, i.lauterbachzikg.eu, phone +49 (89) 289-27562 or Nadine Dobrowolski, direktion@ zikg.eu, phone +49 (89) 289-27556.
Reference:
STIP: Institutional Fellowships of the Samuel H. Kress Foundation. In: ArtHist.net, Oct 10, 2011 (accessed Oct 29, 2020), <https://arthist.net/archive/2012>.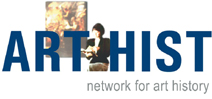 Contribution published: Oct 10, 2011
Add to Facebook