Monet. Orte (Potsdam, 16 Jan 19)
Potsdam, Museum Barberini, Alter Markt, Humboldtstr. 5-6, 16.01.2019
Registration deadline: Jan 16, 2019
Monet. Orte
Symposium
Die Wiedergabe flüchtiger Natureindrücke spielte eine zentrale Rolle in der Kunst Claude Monets (1840–1926). Wie kein anderer Impressionist setzte er sich intensiv mit der Topographie und den spezifischen Lichtstimmungen der unterschiedlichsten Orte auseinander, von der Metropole Paris bis zu den abgelegenen Seine-Dörfchen Vétheuil und Giverny. Das Symposium erforscht die Entwicklung von Monets Kunst von den 1850er bis zu den 1920er Jahren mit einem Fokus auf die Orte – sowohl in der Heimat wie auf Reisen –, aus denen er Inspiration für seine Malerei bezog.
(Alle Vorträge werden auf Englisch gehalten)


PROGRAMM
10:00
Begrüßung Welcome
Ortrud Westheider, Museum Barberini
Christoph Heinrich, Denver Art Museum
10:15
Entering the Fray: Monet's Sense of Place in the 1860s
Paul Tucker, Boston
11:15
Sur le motif: Monet and the Practice of Painting en plein air
Daniel Zamani, Potsdam
12:15
Monet as a Draftsman: Between Drawing and Pictorial Invention
Marianne Mathieu, Paris
13:15 Mittagspause Lunch


14:30
Urban Spaces: Monet Depicting the City
George Shackelford, Fort Worth, Texas
15:30
"These palm trees are driving me crazy": Monet, the South, and the Intentional Motif
Angelica Daneo, Denver
16:30 Kaffeepause Coffee break
17:00
Monet and Other People's Places
Richard Thomson, Edinburgh
18:00
Monet, Bergson, and Proust: Place, Displacement, and Poetry
James Rubin, New York
19:00 Empfang


Teilnahme € 10 / Freier Eintritt für Studierende der Kunstgeschichte
Tickets sind unter www.museum-barberini.com oder an der Museumskasse erhältlich.


Museum Barberini
Alter Markt
Humboldtstr. 5–6
14467 Potsdam, Germany Büroanschrift Office address: Friedrich-Ebert-Str. 115 14467 Potsdam, Germany
T +49 331 236014-499
besucherservicemuseum-barberini.com www.museum-barberini.com
Ausstellung: 29. Februar bis 1. Juni 2020
In Zusammenarbeit mit dem Denver Art Museum
Reference:
CONF: Monet. Orte (Potsdam, 16 Jan 19). In: ArtHist.net, Dec 7, 2018 (accessed May 22, 2019), <https://arthist.net/archive/19731>.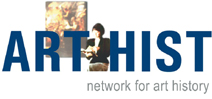 Contributor: Julia Teller
Contribution published: Dec 7, 2018
Add to Facebook