CFP: Narrative in Art and Architecture (Amherst, 21 Oct 11)
University of Massachusetts Amherst, United States, October 21, 2011
Deadline: Aug 1, 2011
The students in the Art History Masters Program at the University of Massachusetts, Amherst invite abstracts for papers to be presented at our 12th Annual Mark Roskill Graduate Student Symposium to be held on Friday October 21st 2011.
This year's symposium will explore the theme of narrative in art and architecture.
Art is readily employed as a form of communication. Whether it be a work that examines a single concept, or an iconographically complex piece that illustrates a specific story, art maintains a close affiliation with communication and narrative. Ongoing developments, both technological and cultural, have changed entirely the ways in which stories are told and information is disseminated. The production of paper, print, books, newspapers, and the internet has had a lasting effect on how we share and transmit ideas. There are countless contemporary mechanisms for communication and narrative in all aspects of everyday life. Throughout history artistic modes of communication have been refined and redefined. As these have changed, so has the role of the viewer, making the spectator an integral part of the narrative process. What is the role of narrative in art, or art in narrative? How have systems of communication in art been adapted, rethought, improved and refined? How does the spectator engage with narrative forms of communication in art?
The graduate students in the department of Art History at the University of Massachusetts, Amherst welcome the submission of abstracts for papers from graduate students and recent graduates. We encourage broad historical and contemporary inquiries from a variety of diverse perspectives related to issues of the role of narrative in art, artistic modes of communication, the relationship between text and image, and explorations of oral tradition and art among others.
Guidelines for Submission: Submission is open to graduate students in art history, archaeology and conservation. Please send a 250-word abstract of your paper, a current CV and contact information by July 15th to: umass.arthist2011gmail.com
Reference:
CFP: Narrative in Art and Architecture (Amherst, 21 Oct 11). In: ArtHist.net, Jun 3, 2011 (accessed Mar 31, 2020), <https://arthist.net/archive/1489>.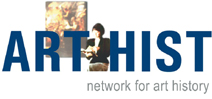 Contributor: Catherine Shotick
Contribution published: Jun 3, 2011
Add to Facebook